Anne Hathaway And Jake Gyllenhaal Take On Big Pharma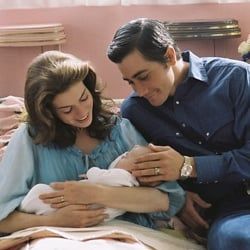 Anne Hathaway is doing a lot of schedule shifting right now. We reported last week that she was considering joining Tobey Maguire in Tokyo Suckerpunch, but according to today's Variety she'll be teaming up instead with the guy who almost replaced Maguire as Spider-Man.
Hathaway is hoping to re-team with Brokeback Mountain co-star Jake Gyllenhaal in Love and Other Drugs, the Ed Zwick drama the previously went into production with the title Pharma. Set in the late 90s, the film stars Gyllenhaal as a Pfizer drug rep and Hathaway as a woman with Parkinson's disease whom he begins to woo during a sales call. Though the memoir apparently exposed the practices of the drug industry during the age of Viagra, the movie seems to be going for a kind of love story. If you've ever wondered what The Insider would have been like as a romance, we might be about to find out.
Zwick, whose most recent historical drama Defiance was a flop here at home, might be trying to reverse his luck by telling a more contemporary story. I know I'll be interested to see what he can do with movie that doesn't involve windswept battlefields and men screaming about valor and glory. And hey, who knows what sparks might fly between Hathaway and Gyllenhaal when they're playing a real couple who actually like each other.
Your Daily Blend of Entertainment News
Staff Writer at CinemaBlend