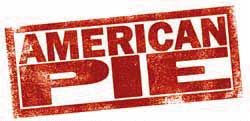 The straight-to-dvd American Pie sequel Band Camp was apparently a pretty big seller… at least by straight-to-dvd standards. So of course, they're doing another.
Longtime CB scooper Liam Wiberly sent us what he says is a casting call for the next American Pie sequel. It's called American Pie Presents: The Naked Mile, and while there's no official word on whether it's straight-to-dvd or not, with that kind of title straight-to-dvd is probably a pretty safe bet.
The plot sounds a lot like someone saw Will Ferrell's streaking scene in Old School and thought it might be a good idea to expand that into a full length, feature movie. Below is the official film synopsis from Rogue Pictures:
It's hard to live up to family expectations, especially when you are a Stifler and your family name is synonymous with hard partying, outrageous trouble-making, and wild sexual exploits. When it comes to these things, high school senior ADAM STIFLER just doesn't fit the bill. A good guy, loyal friend, and reluctant virgin, ADAM is constantly compared to his legendary cousins by all those who worship the STIFLER name. Adam, despite the pressure, respects his girlfriend's desire to wait to have sex. But wild things are on the horizon. Adam and his two friends, RYAN and PAUL, are off to visit ADAM'S cousin at college and run the Naked Mile, a famous event where students run naked across campus after midterms. The guys go in search of drink and debauchery and find plenty, but they also find out more about themselves than they were expecting...
Pretty cringe worthy. I guess they figure as long as they have a Stifler in these things, they qualify as part of the American Pie franchise. And let's face it, if they want to they can probably get Eugene Levy too. He'll do just about anything.
The Naked Mile is being directed by Joe Nussbaum and written by Erik Lindsay. Nussbaum got some notoriety back in the 90's for directing the fan indie George Lucas In Love. He followed it up with the irrelevant 2004 release Sleepover, and thus paved a path that lead him here, to The Naked Mile. The only Erik Lindsay I can find listed on IMDB played Trent Flynn in Slap Shot 2, so it's probably safe to assume we can't expect great things from the script.
The American Pie franchise may be done with, but it isn't going to be allowed to die. A lot of people paid to watch Band Camp, and they'll probably do the same for this one, whether it ends up running in theaters or running straight to video store bottom shelves. It's the new National Lampoon.
Your Daily Blend of Entertainment News
Thank you for signing up to CinemaBlend. You will receive a verification email shortly.
There was a problem. Please refresh the page and try again.