These New Ant-Man Billboards Are Adorable And Perfect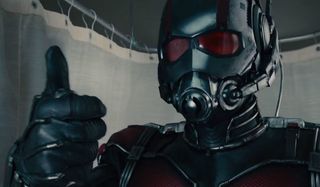 Marvel's Ant-Man is becoming kind of a big deal, at least in terms of its marketing. Movie posters for the upcoming superhero film starring Paul Rudd have been popping up all over the place, but in new and seriously unexpected ways.
What are these, posters for ants?!
Marvel has always maintained a sense of humor when it comes to their cinematic universe, and there's no title worth poking fun at more than Ant-Man. After all, the guy does have an epic train-top battle on the back of a Thomas the Tank Engine play set. But these posters are something else. According to Entertainment Weekly, these ant-sized Ant-Man billboards have been popping up around Australia, and people have been snapping photos and plastering them all over social media.
Guardians of the Galaxy proved to Marvel that people would rally behind something completely out of the ordinary, as long as its something of substance. So why not Ant-Man? It seems crazy now to think back on the days when the studio giant was nervous over the film's performance, but there are some things about Ant-Man that are a bit disconcerting. Although the first trailer did well in drumming up buzz with pint-sized action and comedy, we can't help but recall Edgar Wright's untimely departure from the helm. The Cornetto Trilogy director parted ways with Marvel over creative differences, after writing what Joss Whedon called in a recent BuzzFeed profile "the best script that Marvel had ever had." Can Peyton Reed deliver something extraordinary enough to drum up a strong theatrical turnout?
As these new posters suggest, Ant-Man is no doubt filled with humor. Described as a heist film disguised as a superhero film, it features Rudd as reformed thief Scott Lang, who's been enlisted by the original Ant-Man, Hank Pym (Michael Douglas), to steal his size-shrinking suit and technology from the clutches of his former partner and current enemy. In doing so, Lang assumes the role of superhero in training, as he wields his newfound Ant-Man abilities. But don't blame him for the name. As he says in the trailer, it wasn't his idea.
There's a lot to look forward to in this film. Corey Stoll plays Darren Cross, the man soon to become Yellowjacket, while Evangeline Lilly plays Hope van Dyne, Pym's daughter whose comic counterpart is The Wasp. In addition, the conflicts presented seem to nicely position the battle to come in Captain America: Civil War: Cross wants to sell the Ant-Man technology to the public, while Pym worries over the implications of giving everyone God-like powers. The film will open in theaters on July 17, and hopefully it'll prove to be as delightful as these billboards.
Your Daily Blend of Entertainment News
Your Daily Blend of Entertainment News
Thank you for signing up to CinemaBlend. You will receive a verification email shortly.
There was a problem. Please refresh the page and try again.