Anthony Mackie Originally Begged Marvel To Let Him Play A Different Role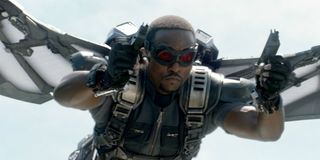 Anthony Mackie has cemented his place in the Marvel Cinematic Universe since debuting in Captain America 2 as The Falcon. He'll next be pop up in Avengers 2, he's already confirmed for Civil War, and it's likely he'll be involved in the big two-part Infinity War. But before he was officially cast, he campaigned hard to become Black Panther.
During one of the first panels at this year's Emerald City Comic-Con in Washington (via Comic Book Resources), Mackie answered fan questions, as moderated by Claire Kramer. Speaking about the origins of his character, he revealed that he originally reached out to Marvel to inquire about casting for the King of Wakanda. The comic book movie giant eventually responded, though at the time it wasn't clear whether it was regarding Black Panther or Falcon. We guess we know the answer to that.
Mackie also vied for Black Panther in press interviews. Back in 2012, while he was making the rounds to promote Abraham Lincoln: Vampire Hunter, he told HitFix that he would love to be a part of Marvel's plans for the character. He told the site that he loved Black Panther and his backstory. He later went to The Daily Beast and theorized how the future standalone film should tonally play out.
Chadwick Boseman was revealed as Black Panther during a massive Phase 3 presentation by Marvel. He walked out onto the stage, alongside Robert Downey Jr. and Chris Evans, and he's said to make his first appearance alongside them in Civil War. Even then, Mackie was incredibly supportive of Boseman and the property. He told I Am Rogue that he had been stressing the importance of Black Panther to Marvel as he was shooting Captain America 2 as Falcon.
The character attracted many other actors over the years, though it's unclear if any of them really stood a chance of landing the role. Adewale Akinnuoye-Agbaje made his interest known, though he was ultimately cast in the dual role of Algrim and Kurse in Thor: The Dark World. Then there was Michael K. Williams, who said he had his eye on Black Panther.
Marvel clearly has big plans for the character. We'll first start to see teases of him in Avengers 2, with some rumors suggesting he might actually appear. With his appearance in Civil War, and first solo film in Phase 3, he's preparing to have a major presence in the pre-Infinity War era.
Your Daily Blend of Entertainment News
Thank you for signing up to CinemaBlend. You will receive a verification email shortly.
There was a problem. Please refresh the page and try again.