Anthony Michael Hall Talks Dark Knight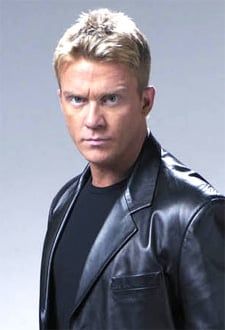 With all of the Dark Knight marketing focusing on Christian Bale, Aaron Eckhart, and Heath Ledger, sometimes it's tough to remember that there's a ton of other fairly well-known names in the Batman Begins sequel. Of course, we all know Michael Caine, Gary Oldman, and Morgan Freeman are reprising their roles from the first picture, but I know I've forgotten all about other announced names like Anthony Michael-Hall, Eric Roberts, and Nestor Carbonell.
Thankfully, these other actors are starting to make their rounds promoting The Dark Knight, reminding us they're in this picture too, as well as reminding us of some of the foolish rumors we bought into along the way. For example, Anthony Michael-Hall recently talked to Sci-Fi.com, discussing the great experience filming The Dark Knight was and how entertaining he found all of the rumors that he was playing the Riddler.
"This is really funny, because I heard about the whole 'Is he playing the Riddler?' thing from my mother," Hall told Sci-Fi.com. "Between takes I walked out into the street. We were shooting in the lobby of a high-rise building in Chicago, and I walked out into the middle of the street to admire this absolutely beautiful gray Lamborghini that was actually Christian's in the film. It looked like it was my car, and it looked like I was dressed to match it [because he was wearing a gray suit], and what happened was there were a lot of extras there [who] I think were going online and selling stories and circulating photos. So the next you know, people thought I was playing the Riddler, that I had a cooler role than I actually did."
Hall is actually playing Mike Engle, an anchorman for Gotham Tonight, a news magazine on Gotham television. Even though it sounds like a smaller part, Hall got to interact with a lot of the movie's big hitters, including Ledger and Oldman.
As far as actually playing the Riddler, Hall would have been open to the idea if it had been offered to him: "I wish I was, you know? I wish I was Batman, to be honest with you, but I think Christian has it locked up." I couldn't go for Hall in the batsuit, but I still think he would have made a wonderful Edward Nygma… better than Jim Carrey at least.
Your Daily Blend of Entertainment News