Artie Lange Almost Got Serious For The Wrestler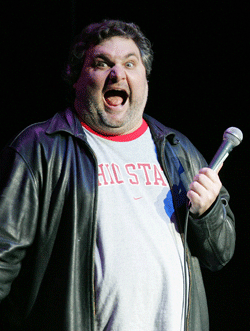 Artie Lange, an actor? Well, not quite. According to Slash Film, Lange fell just short of nailing the audition for a role in the critically acclaimed film The Wrestler.
Recently, on the Howard Stern Show, the topic was brought up and Artie explained that he seriously perused the film's fifth lead role, a sleazy wrestling promoter. It's hard enough to believe this once, and possibly still, drug-addicted comedian can take anything seriously, but Artie spoke very passionately about the experience. "So it goes right till the end, and my manager calls me back and tells me 'the other guy got it'. I was like 'Aw Fuck!' It was really like god fucking with me. I wanted it now." If you don't know much about Artie Lange, the crude language translates into enthusiasm for the topic he's talking about.
Artie explained he thought he aced his auditions and couldn't figure out why the role was given to another person. A friend of Artie's said his loss may be the result of an altercation between Lange and the film's director, Darren Aronofsky, back in the 90's. According to this friend, Lange went a little over the top at a Hollywood party (that would putting it mildly) and picked a fight with Aronofsky. Artie continually hit Aronofsky in the face while verbally abusing him. Artie denied the validity of this story and Howard even backed him up doubting the director's ability to come up with such a revenge plot.
While this may have been a disappointment to Lange, he certainly has more than enough to keep his spirits up now. His book, Too Fat To Fish, put him on the New York Times bestseller list. He's even creating a television show for Comedy Central based on the book. He may be fat, he may take drugs, and even have a website dedicated to the countdown to his death (www.artielangedeathwatch.com), but you can't deny the fact that Artie Lange works with what he's got and is a pretty successful guy.
Staff Writer for CinemaBlend.
Your Daily Blend of Entertainment News
Thank you for signing up to CinemaBlend. You will receive a verification email shortly.
There was a problem. Please refresh the page and try again.