Will The Avengers Make An Appearance In Toy Story 4?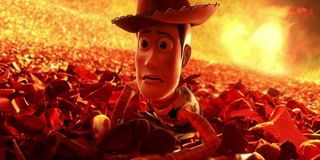 Now that Toy Story 4 has been announced, speculation over who might feature alongside Woody, Buzz, Rex et al is rife. And since Disney owns Pixar, it means that a number of iconic characters could pop up in the hugely anticipated effort at some point or another.
So which already recognized characters could appear in Toy Story 4? Well how about The Avengers to start off with? Don't forget Disney also own Marvel, which means that Pixar could take advantage of their availability by saturating Toy Story 4 with the likes of Iron Man, Thor, The Hulk and Captain America. The success of The Lego Movie proves that audiences lap up these references, when they're done right, in their droves. But it doesn't stop there. According to Comic Book, Disney also owns the animation rights to the Spider-Man character too.
Spider-Man's addition to the Toy Story world would make more sense than The Avengers joining the group, in my opinion. Pixar likely would struggle to organically introduce each of the characters from The Avengers. Plus, Marvel and Pixar could run the risk of convoluting the already well-established Avengers posse. Spider-Man, on the other hand, would easily slide into the ensemble. Plus there would be plenty of opportunities to make jokes about his secret identity and inability to take off his mask, and so on.
The Toy Story franchise has previously flourished when adding licensed characters to their films. Of course Barbie was probably the most famous name to join the series, having first made an appearance in Toy Story 2 before going on to feature more prominently in Toy Story 3. This also provided an opportunity for Ken, who was magnificently voiced by Michael Keaton in the third instalment, to arrive on the scene too. However a plethora of other minor-characters have also been heavily inspired by illustrious figures from the world of cinema and pop culture. Emperor Zurg was an ode to Darth Vader, Bo Peep a reference to Little Bo Beep, while the Barrel of Monkeys, Etch A Sketch and toy soldiers have all been used superbly. In fact, let's celebrate the moment that Ken and Barbie originally met in Toy Story 3. It's preposterously superb in almost every way.
I'd be very surprised if the likes of Spider-Man, The Avengers, or any Star Wars characters, another entity that Disney own, did actually feature prominently in Toy Story 4, though. Any intergalactic or superhero jokes are usually reserved for Buzz Lightyear, while, as I've already noted, Woody, Buzz, Slinky, Mr Potato Head, Rex and the gang are so well settled that any huge additions could easily rock the boat. But you can still expect plenty of cameos and Easter Eggs to be dotted throughout the film though. I'm just hoping they make a snide dig at Frozen at some point.
Your Daily Blend of Entertainment News
Thank you for signing up to CinemaBlend. You will receive a verification email shortly.
There was a problem. Please refresh the page and try again.