The Avengers: Ranking The Most Likely Candidates To Join The New Team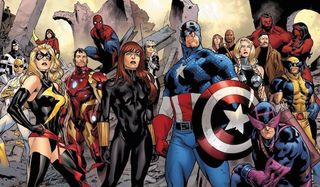 Last year, we saw the Avengers' first major shakeup in the Marvel Cinematic Universe with Avengers: Age of Ultron. By the movie's end, Iron Man, Thor, Hawkeye, and Hulk left the team, leaving Vision, Scarlet Witch, War Machine, and Falcon to take their places alongside Captain America and Black Widow. Marvel fans know that the Avengers lineup is always changing, but those who are strictly moviegoers are still getting used to the concept. Well, the shakeups are nowhere near being done.
Avengers: Infinity War co-director Joe Russo recently said that many of the supporting Avengers will become primary Avengers during the MCU's upcoming Phase 3. Presumably this team will be the one that's protecting the world when the Infinity War begins, as well as the one still leading the charge when Phase 4 kicks off. This means we can automatically exclude Iron Man, Thor, and Captain America. That doesn't mean they'll be killed or taken off the board permanently, but with each of them having three solo movies and all the Avengers movies under their belt, their time in the spotlight will be finished.
So with the supporting heroes that we already know, as well as the new characters being introduced in the near future, we've come up with the main candidates for who will compose this new Avengers team during Phase 4 (since the Avengers: Infinity War movies will have practically everyone involved), along with reasons why the remaining characters won't be given regular membership.
Black Panther
When he's not protecting Wakanda, Black Panther has been a frequent member of the Avengers since 1968 in the comics. When T'Challa debuts later this year in Captain America: Civil War, he'll feud with some of the other superheroes, but eventually this conflict will resolve, and once his solo adventure has been dealt with, he'll officially ally himself with the Avengers. His primary duty is to his kingdom, but his unique abilities can help other areas of the world, too.
Captain Marvel
Captain Marvel is the last major hero being introduced before Avengers: Infinity War Part 2 is released, and like Black Panther, she's been a longtime member of various Avengers teams. Despite being a newbie to the superhero game, Carol Danvers, like her comic book counterpart, will likely have a lot of military experience under her belt, making her an invaluable addition to Earth's Mightiest Heroes once she joins the fray. Depending on how her solo movie goes, she could also be the main link between the team and the MCU's cosmic side.
Vision
Given that he has an Infinity Stone embedded in his forehead, it's practically guaranteed that Vision is going to be ripped apart by Thanos at some point during the Infinity War. That said, the android has been rebuilt plenty of times in the comics, and we don't see that changing in any substantial way in the MCU. He may look exactly the same, but he'll have the same resolve to protect humanity, and he'll accomplish that by staying with the Avengers.
Falcon
Captain America: Civil War will be the third movie where we see Falcon in action (that Avengers: Age of Ultron cameo doesn't count), but we believe he still has a bright future ahead with the Avengers. Even with the shakeup on the way, we don't see Sam Wilson leaving the team, though it will be weird not to see him partnered with Steve Rogers on a regular basis. We could even see him being the Avengers' team leader, a role he's currently serving in the comics as the new Captain America.
Scarlet Witch
Although her brother Pietro met his demise in Avengers: Age of Ultron, Wanda Maximoff is just getting started as the Scarlet Witch in the MCU. Captain America: Civil War will see her learning more about her powers as she's engaged in the superhero conflict, but we're still early in her development. She'll likely remain with the Avengers after the Infinity War is over, as they're the only family she has left, and it's with them she's found her purpose. Plus, these new Avengers movies would be the prime time to explore a relationship with Vision like in the comics.
Ant-Man
?Unlike Scott Lang's predecessor, Hank Pym, in the comics, Scott's Ant-Man didn't get to help found the Avengers in the MCU. Fortunately for him, Scott will be one of the players in Captain America: Civil War. Afterwards he's be one of the co-leads in 2018's Ant-Man and the Wasp, but after the Infinity War concludes (no word yet on if Scott is participating in that), he'll undoubtedly be added to the Avengers, finally giving the team a tiny titan. As for his partner…
Wasp
Despite not getting to shrink with Scott in Ant-Man, Hope van Dyne will finally inherit the Wasp legacy from her mother in 2018's Ant-Man and the Wasp. While there's no comparison we can make to the comics with Hope (since that version of her was a super villain in an alternate universe), if Hope ultimately follows a similar path as her mother, Janet, she'll undoubtedly accompany Hank to the New Avengers, lending both her expertise and stingers.
This brings us to the remaining heroes in the MCU. Click ahead to find out why we don't think these remaining candidates will be part of the New Avengers, at least on a regular basis.
Hulk
It's true that since Hulk can't feature in his own adventure due to Marvel and Universal's complicated relationship, he needs to be included in other movies whenever possible. That said, once the Infinity War concludes, we imagine Bruce Banner won't want to jump back into the normal superhero routine. Also, Marvel may want to keep one of Mark Ruffalo's still-contracted movies on the side in case they eventually do get to make a new Hulk film.
Black Widow
Black Widow and Captain America were the only two founding Avengers to stick around as Avengers: Age of Ultron concluded, so she's clearly still invested in the team. However, eventually she'll take her life down a new path. It's possible she may eventually decide to lead a quiet life, or maybe she wants to tap back into her spy side to accomplish good discreetly. If it's the latter, Phase 4 might also be a good time to finally give the character her own solo movie.
Hawkeye
When we last saw Hawkeye in Avengers: Age of Ultron, he resigned from the Avengers to spend more time with his family. He's going to get drawn back into his old life in Captain America: Civil War, and Jeremy Renner will reportedly be back for Avengers: Infinity War. Assuming he doesn't die in the near future, presumably he'll return to his domestic lifestyle at some point. Protecting the world is admirable, but the man has a wife and children to look after.
War Machine
Whether Tony Stark dies, retires, or just keeps operating offscreen, War Machine is the next person up to take his place as the "guy in the supersuit." However, if you watched the Captain America: Civil War trailer, you noticed that scene where Tony is holding an unconscious Rhodey in damaged armor. Considering that every war has its casualties, we're not willing to bet on him having a future with the Avengers right now.
Doctor Strange
Doctor Strange has always been willing to help out his fellow Marvel heroes, but aside from his stint on the New Avengers last decade, he doesn't have official ties with Earth's Mightiest Heroes. Presumably that will be the same dynamic in the MCU, as Stephen Strange is usually busy dealing with mystical threats both on Earth and in other dimensions. He'll obviously lend a hand if the Avengers are dealing with an especially powerful foe, but otherwise, his schedule is booked solid.
Spider-Man
Although Spider-Man joined the Avengers at the beginning of the decade, he's been a lone wolf for most of his history. He'll team up with other Marvel heroes now and then, but he prefers dealing with crime on his own. Although Spidey's first MCU appearance will see him working alongside other heroes in Captain America: Civil War in some capacity, it's for the best if he isn't given official membership. The other Avengers would also see it in their best interest to not deliberately put a teenager in danger.
Winter Soldier
If the rumors circulating about Steve's (temporary) demise in Captain America: Civil War are true, then perhaps Bucky Barnes may inherit the Star-Spangled mantle like his comic book counterpart. However, we think Bucky will retain the Winter Soldier identity, and with his HYDRA past still haunting him, he'll probably want to keep a low profile, making membership in the Avengers a no go. Those guys are in the news way too often for his liking.
Connoisseur of Marvel, DC, Star Wars, John Wick, MonsterVerse and Doctor Who lore. He's aware he looks like Harry Potter and Clark Kent.