Batman's Solo Movie Could Happen Sooner Than We Thought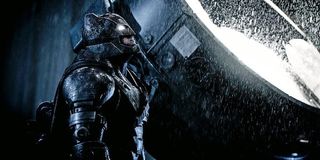 When it comes to DC movies, Batman is without a doubt the comic book company's heaviest hitter. So it's no surprise that in addition to his upcoming appearances in Suicide Squad and the two Justice League movies, there's also been talk of a new Batman standalone movie coming to the DCEU a some point. In the midst of all the rumors and reports, there's never been a clear indicator of when it could be released, but not the latest word is that we may see the new Batman movie as soon as the first half of 2018.
On the latest episode of Heroic Insider, host Umberto Gonzalez passed along the rumor that the solo Batman movie is a "top priority" for Warner Bros, to the point that they're fast-tracking it so that it's released before Aquaman, which comes out on July 27, 2018. That year also brings The Flash movie on March 16, so unless Warner Bros wants this Batman movie to be a January of February release, early May would probably be the best bet given that's when the blockbusters start to come out in droves. As it stands now, Warner Bros has two DC movies scheduled each year from now until 2020, so if the Batman movie comes out anytime between then, it will bump that year to three DC movies.
Ben Affleck's Batman debuted last weekend in Batman v Superman: Dawn of Justice, and while the movie has earned polarizing reviews, his iteration of the Caped Crusader has been received well for the most part. Rather than go the origin story route again, the DCEU's Batman already has 20 years of crimefighting under his belt when the present-day events kick off, but it's unclear whether the solo movie would take place in the past or present. Whatever the setting, if Warner Bros does indeed want the new Batman movie to arrive before Aquaman, then production would need to begin either at the end of the year or early next year, and it also couldn't conflict with Affleck shooting Justice League: Part One.
Plot-wise, our only clue for the Batman movie comes from DC's Chief Creative Officer Geoff Johns, who said that it would focus on the tragedies of his past, namely what happened the dead Robin. There's been talk of having Affleck himself direct, given his success with Gone Baby Gone, The Town and Argo, but nothing is official on that end yet. It was also reported earlier this week that Affleck has also written his own script, so there could be a scenario where Affleck is not only in front of the camera and maybe directing, but also the mastermind behind the story.
You can hear the rumor for yourself in the video below at the 26:55 mark.
It may be a while until we get official confirmation on when the Batman solo movie will arrive, but moviegoers can see Gotham City's protector make a minor appearance this August in Suicide Squad, and he'll team up with the DCEU's other major heroes in November 2017 for Justice League: Part One.
Connoisseur of Marvel, DC, Star Wars, John Wick, MonsterVerse and Doctor Who lore. He's aware he looks like Harry Potter and Clark Kent.
Your Daily Blend of Entertainment News
Thank you for signing up to CinemaBlend. You will receive a verification email shortly.
There was a problem. Please refresh the page and try again.