Beatles History, Emotional Restauranteurs And More At Durham's Full Frame Documentary Festival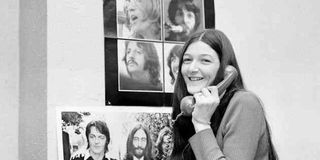 Years ago, the city of Durham, N.C. playfully adopted the nickname "Realitywood" after successfully hosting the annual Full Frame Documentary Film Festival. The moniker has since faded, but Durham hasn't stopped serving as a destination spot for doc seekers who flood the sleepy tobacco town each spring in search of the finest stories being told by top-notch documentary filmmakers.
This year's fest, held April 4-7 in downtown Durham, was characterized by a tribute to the filmography of Oscar winner Jessica Yu (Last Call at the Oasis, The Living Museum), as well as a fascinating sidebar of programming dedicated to "Stories about Stories." It was in that program that I finally was able to catch up with writer-director Anna Broinowski's fascinating 2007 effort Forbidden Lie$, about the quest to verify the story of a Middle Eastern honor killing that might not have actually happened.
Gems like Lie$ bring audiences back to Full Frame year after year, and this season, the festival's coveted Audience Award went to A Will for the Woods. Co-directed by Amy Browne, Jeremy Kaplan, Tony Hale and Brian Wilson, the film explores something known as the green burial movement by focusing on one man's quest for a final resting place that will do no harm to the earth. In addition to claiming the Audience Award, this doc also took home a prize named after the Nicholas School Environmental Award, which – according to officials – regularly honors "the film that best depicts the conflict between our drive to improve living standards through development and modernization, and the imperative to preserve both the natural environment that sustains us and the heritages that define us."
As is often the case, the two best films I took a chance on at this year's Full Frame festival didn't take home prizes at Sunday's awards ceremony, though they absolutely should be sought out as they secure distribution later this year.
The best film I caught this year was Joseph Levy's inspirational restaurant documentary Spinning Plates. By focusing on three vastly different eateries in three corners of our country, Levy explores why certain people are drawn into the restaurant business … and the unique challenges they face once immersed in the act of serving us food. But each of the three narratives packed unexpected dramatic hooks, and the conclusions of Spinning Plates had many in the Durham audience choking back sobs.
Good Ol' Freda was less of an emotional ride, but remains a treasure for die-hard Beatles fanatics. Freda Kelly was (and remains) a dedicated Beatles enthusiast who traces her earliest memories of the Fab Four back to their days entertaining lunch crowds in the Cavern. Right before the Beatles hit it big, Kelly accepted a position as president of the band's official fan club … then held on tight as the next 11 years became a whirlwind ride of massive successes tied to the Beatles' remarkable career.
Director Ryan White catches Kelly at a moment where the notoriously shy and private woman finally is ready to share her personal story. (In a post-screening Q-and-A, White says that Kelly's own daughter admitted that 95% of what's told on screen in the movie was unknown even to her.) But instead of being a gossipy tell-all – Freda's far too classy for that – this doc is just a spectacular account from inside the Beatles' camp. And with four official songs licensed for use by Kelly's old "bosses," Freda also ends up being a rollicking good time at the theater.
Those films lost out on this year's Full Frame Grand Jury Award to American Promise, Joe Brewster and Michele Stephenson's stirring doc that traces the lives of two teenaged African-American boys who start as childhood friends and watch their paths diverge due to social circumstances.
"We chose this film – which spans twelve years in the lives of two African-American families – for the elegance and honesty with which filmmakers Joe Brewster and Michèle Stephenson tell the story of their son Idris and his best friend Seun growing up in Brooklyn. This epic cinema-verite film is at once a revealing and affecting depiction of the contemporary black male experience and a deeply personal and beautifully observed portrait of a family," said jurors Greg Barker, Nina Davenport and Tia Lessin in a statement.
Documentary film fans should put these titles on their radars, and book a trip to Durham for next year's Full Frame festival. For lovers of "Realitywood," it's an event not to be missed.
Managing Director at CinemaBlend. ReelBlend cohost. A movie junkie who's Infatuated with comic-book films. Helped get the Snyder Cut released, then wrote a book about it.