Beetlejuice 2 Is Definitely Bringing This Character Back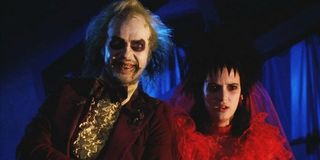 Beetlejuice 2 is building up quite a head of steam. Michael Keaton previously declared that he wanted to reprise the character, and now Tim Burton has insisted that not only are they currently hard at work on a script for the follow-up, but that Winona Ryder will be returning as Lydia Deetz too.
Tim Burton discussed the development of Beetlejuice 2 during an interview with MTV News. After being quizzed about whether he would direct the sequel, Burton remarked, "Oh yeah." Then when he was asked whether Winona Ryder would also be joining him he emphatically proclaimed, "Oh yeah, yeah yeah yeah. Oh yeah, oh yeah. Yeah yeah, oh yeah." That's quite a hefty amount of "yeahs." Burton also found time to note that he is quite happy with how the script is currently developing but he did admit that he hasn't found the time to talk to Michael Keaton about the progress of the film because of the actor's efforts promoting Birdman. Said the director,
There are plenty of reasons to be excited about Tim Burton's Beetlejuice 2 comments, especially after his comments revealed last night. Not only does it look as if the main cast of the 1988 original are all chomping at the bit to return to the film, but simply hearing Tim Burton exude about how much he adores the character and the freedom it presented him as a filmmaker was contagiously joyous. In fact, the element that has Tim Burton the most excited about a potential new Beetlejuice film appears to be the chance to work with the likes of Winona Ryder and Michael Keaton once again. Tim Burton explained during his MTV interview that after working with Winona Ryder on the video for The Killers' song, "Here With Me," back in 2012, he realized just how much he wanted to collaborate with her once more. Said Burton,
At the moment, it really does sounds as if Beetlejuice 2 might just happen. There could be one issue though. While Winona Ryder has fallen slightly out of popularity over the last few years, Michael Keaton is currently riding the crest of a wave thanks to his performance in Birdman and he is almost certainly going to have numerous offers to appear in a whole host of different kinds of cinematic delights. Hopefully Beetlejuice 2will be somewhere near the top of this list. And the fact that the original is still regarded as one of the most endearing and popular films of the last 30 years means that there are more good reasons than bad for him to return to the character that truly broke him-out as a unique acting talent.
Your Daily Blend of Entertainment News
Your Daily Blend of Entertainment News
Thank you for signing up to CinemaBlend. You will receive a verification email shortly.
There was a problem. Please refresh the page and try again.