Michael Keaton Still Game For Beetlejuice 2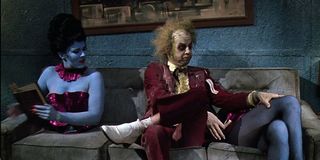 Before Johnny Depp came along and became Tim Burton's ever-odd muse, the director with a taste for the dark side was fixated on Michael Keaton. The pair made Batman, Batman Returns and Beetlejuice together, but haven't collaborated on a film since. Even though more than twenty years have passed between now and their last joint effort, Keaton is game to reunite with Burton for the oft-rumored sequel to Beetlejuice.
In promotion of his upcoming vehicle Need for Speed, Keaton appeared on The Today Show where he was subjected to the awkward interview stylings of Savannah Guthrie. Asked about if he's be game to return to the green wig and rot makeup worn by the devilish ghost with the most, Keaton offered:
This is in fact very similar to what he said when asked about Beetlejuice 2 on the press rounds for the Robocop movies. It was only a couple of weeks ago that he insisted if Burton was involved in the proposed sequel, he'd be happy to get on board. At the time he'd admitted the two have emailed about the possibility. But actual news on the film's progress has been hard to come by since then.
In the early '90s, a sequel called Beetlejuice Goes to Hawaii was in development, but thankfully never came to fruition. But in 2011, the possibility of a Beetlejuice sequel was resurrected when Warner Bros gave a two-year development deal to Seth Grahame-Smith, writer and co-producer (alongside Tim Burton) of Abraham Lincoln: Vampire Hunter. Shortly thereafter, producers promised the movie would not be made unless they can get Keaton to sign on. By early 2012, Burton was attached to the production. Plus, it was revealed this movie would pick up 26 years after the plot of the first film ended.
From there months clicked by with little word. Then in the fall of 2013, Burton had reportedly entered into talks to direct. More promising still, Winona Ryder was rumored to be reprising her role as Beetlejuice's reluctant bride Lydia Deetz.
So if Burton, Keaton and Ryder are game, what's the hold up? Frankly, your guess is as good as ours. But the better question might be if we even want a sequel.
As much as I love Michael Keaton, and happily recall late '80s/early '90s Burton as my favorite of his eras, this project makes me anxious. I've said it before, and I'll say it again: Burton has deteriorated as a filmmaker. His new movies feel like a rehash of his earlier works, lacking in originality and instead wheeling out the same pale figures, black spirals and Danny Elfman score each time out. Personally, I'd rather have one great Beetlejuice I can revisit as much as I want without the assumed stain the writer of Abraham Lincoln: Vampire Hunter and Dark Shadows might put on its legacy.
This poll is no longer available.
Your Daily Blend of Entertainment News
Staff writer at CinemaBlend.