Behind The Scenes Of Butter: Jennifer Garner Is An Ambitious Hillary Type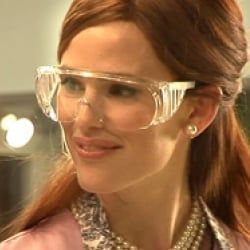 Last fall I read and laughed out loud at the script for Butter, a satiric comedy set in the weird world of competitive butter sculpting-- yes, it's a a real thing-- that also acts as an allegory for the 2008 Presidential election. Jennifer Garner stars as the Hillary Clinton figure, an ambitious woman who is married to the 15-year-running butter sculpting champ (Ty Burrell) but decides to enter the race on her own when he retires. She's the shoo-in favorite until an adopted young black girl (Yara Shahidi) becomes a late-breaking favorite. Hugh Jackman, Alicia Silverstone, Olivia Wilde and Ashley Greene round out the killer cast, and all are featured in a behind-the-scenes video on ET Online.
It's unusual for an ET video in that there's not an annoying anchor explaining everything in voiceover, but it's also a little weird because it goes on for a long time, more than five minutes. But if you've ever wanted to see Hugh Jackman switch from a down-home twang back to his native Australian accent over the course of a few seconds, or if you want to check out Olivia Wilde dressed as a stripper, take a look at the video below. I'm guessing you're going to watch it for the Olivia Wilde as a stripper part, but I promise I won't judge.
Staff Writer at CinemaBlend
Your Daily Blend of Entertainment News
Thank you for signing up to CinemaBlend. You will receive a verification email shortly.
There was a problem. Please refresh the page and try again.