The Behind The Scenes Work Julianne Moore Put Into Getting Her Oscar Nom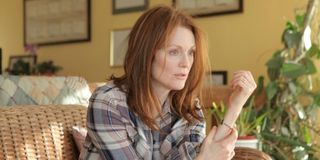 Among the more deserving Oscar nominations this year sits Julianne Moore for her portrayal of the professor and early-onset Alzheimer's patient in the film Still Alice. And after the dedicated hard work and research that Moore did to perfect her role, it's about damn time that she come out on top for Best Actress at the Academy Awards.
Moore has already been recognized for her stellar performance in Still Alice, earning the Golden Globe for Best Actress In A Motion Picture Drama. But, it's the Oscar that she needs to win, especially after the intensive research and character study she did to generate an authentic performance. At the New York screening of the film, Moore discussed the behind the scenes work she put into her character, and it included over four months worth the research. According to The Hollywood Reporter, Moore explained that in her research, she basically talked to everybody that she could. Moore said:
The hard work paid off, too, and Moore's performance puts her as a serious contender, going up against Marion Cotillard in Two Days, One Night, Felicity Jones in The Theory of Everything, Rosamund Pike in Gone Girl and Reese Witherspoon in Wild. And after four nominations without coming out with the win, Moore has more than earned her time at the top. This performance specifically shows off all of her acting chops. Going from the healthy linguistics professor on the brink of extreme success to the crumbling effects of Alzheimer's forced Moore to explore a wide array of heart-wrenching emotions. By her research, Moore was able to create a realistic portrait of someone with Alzheimer's.
Co-director of the film Wash Westmoreland told The Hollywood Reporter just how difficult it is to portray the character Moore has so incredibly well, even beyond the acting process. He said:
We're hoping that all Moore's hard work pays off, and finally lands her an Oscar. The actress is known for playing troubled women who have lost a sense of self. This role takes that idea to an entirely new level, where the loss of self is uncontrollable, and unpreventable, and she brings it to life in an authentic and genuine portrayal.
Your Daily Blend of Entertainment News
Thank you for signing up to CinemaBlend. You will receive a verification email shortly.
There was a problem. Please refresh the page and try again.