Believe In Marvel? Then Believe In Peyton Reed's Ant-Man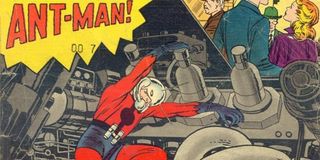 As perfectly illustrated by the "creative differences" that led to Edgar Wright to leave the Ant-Man, the way projects develop at Marvel Studios is quite a bit different from any other company in Hollywood. The comic book giant has plans for their Marvel Cinematic Universe that extend beyond 2028, and they have strong, internally-created ideas about the steps that will get them there. In order for this to play out, however, what's needed are filmmakers who have both a great visual and storytelling spark, but are also open to collaboration and working on what is a piece of a much larger puzzle.
The positive news is that in the last few years that studio has stumbled into a goldmine of these kinds of filmmakers, and it's why the hiring of both Adam McKay and Peyton Reed to take over Ant-Man as writer and director, respectively, makes a lot of sense. So what makes them such a good fit? They both have extensive experience in television, and that's basically the exact system that Marvel Studios has brought to the movie world.
Filmmakers like Kenneth Branagh, Joe Johnston, and Jon Favreau - specifically known for the their work in features – sat in the director's chairs for most of the Phase One films of the Marvel Cinematic Universe, but that was before Marvel's strategy shifted. It all first began to change in 2010, when it was revealed that Joss Whedon would be directing The Avengers, and was taken to the next level when Whedon's hiring turned out to be a massive success and he signed a three-year deal to oversee the development of Phase Two (in small screen terms, that's what you'd call a "showrunner").
Marvel has gone back to this well twice in the years since and scored both times, bringing in Community's Joe and Anthony Russo for Captain America: The Winter Soldier and Game of Thrones' Alan Taylor for Thor: The Dark World. These are directors who have spent years on sets and in writers' rooms helping serve a larger creative vision and work as part of a group.
Enter Adam McKay and Peyton Reed. While both have plenty of notable film titles on their resumes, one doesn't have to go too deep into in their filmographies to find their television roots. Before making Anchorman, Step Brothers and The Other Guys, McKay met his producing/writing partner while working on Saturday Night Live, where he was a sketch writer for six years. Likewise, Reed not only helmed episodes of The Weird Al Show and Upright Citizens Brigade before making movies like Down With Love, Yes Man and Bring It On, but has since returned to the medium for shows like New Girl and The Goodwin Games. Surely their feature experience was important to Marvel (the Russos and Taylor had some too), but I wouldn't be surprised if McKay and Reed's TV work played an important role in both their consideration and their selection.
I expect that many will complain about the hiring of McKay and Reed as a big step down from Edgar Wright, and I'm not really in a position to disagree. There's little question in my mind that Wright is one of the best directors working today and his sense of humor and aesthetic are both brilliant. But if reports about his departure are true, then his Ant-Man was never going to work at Marvel Studios. He signed on to make the movie two years before the existence of the Marvel Cinematic Universe, and in the eight years since the studio has adopted a method of making films that has had the two handed effect of creating a lot of incredible success and, sadly, alienating Wright - who was reportedly more interested in creating a singular film than one part of a massive universe.
In McKay and Reed, Marvel has presumably found a writer and a director who are open to and have experience under a showrunner, and can contribute creatively in a meaningful way from that perspective. That's the way Marvel Studios makes movies, and if you've enjoyed their work so far, there's no reason not to have faith in Ant-Man.
Your Daily Blend of Entertainment News
Assistant Managing Editor
NJ native who calls LA home and lives in a Dreamatorium. A decade-plus CinemaBlend veteran who is endlessly enthusiastic about the career he's dreamt of since seventh grade.
Your Daily Blend of Entertainment News
Thank you for signing up to CinemaBlend. You will receive a verification email shortly.
There was a problem. Please refresh the page and try again.