Benjamin Walker Beards Up In Abraham Lincoln: Vampire Hunter Set Photo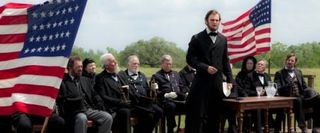 If you don't live in New York or pay attention to Broadway much, you might not be all that curious to see what Benjamin Walker looks like as our 16th President Abraham Lincoln: Vampire Hunter. But if you caught Walker onstage in Bloody Bloody Andrew Jackson last year you probably already know he's got enough charisma and starpower to fuel several acting careers, and probably are dying to check out the image in today's New York Times of Walker, done up in full Lincoln beard and suit, on the film's Louisiana set.
The full Times article goes into the twisted concept of the movie and how hard Fox fought to get the rights to the film, but if you've been paying attention here over the last year you already know that much. Fox picked up the film, based on Seth Grahame-Smith revisionist history novel, back in back in October; not long after that Wanted director Timur Bekmambetov signed on, and quickly cast Walker as Lincoln, Mary Elizabeth Winstead as Mary Todd Lincoln, Rufus Sewell as the lead vampire, and lots more interesting people like Anthony Mackie, Dominic Cooper and Alan Tudyk in various roles. None of them seem to be featured in this new image, though I guess you never know who's hiding underneath the 19th century facial hair.
At the Times you can read the full article and check out a larger version of the image above. Given that it's filming in Louisiana we might not see too many more set photos, but it's set to hit theaters June 22 next year, so it's not going to be that long a wait anyway.
Staff Writer at CinemaBlend
Your Daily Blend of Entertainment News
Thank you for signing up to CinemaBlend. You will receive a verification email shortly.
There was a problem. Please refresh the page and try again.