Beyonce And Longoria As Lesbian Lovers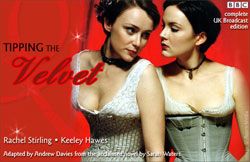 This is a strange coincidence. Last weekend I hung out with some friends and was talked into watched a surprisingly good old BBC lesbian issues miniseries called "Tipping the Velvet", based on a book by Sarah Waters. Now Digital Spy says it's Sofia Coppola's next movie and she's in negotiations with Beyonce Knowles and Eva Longoria to play the leads, a lesbian couple.
The book is a period piece, the story of a lesbian musician named Nancy and her partner as she struggles to come to grips with her sexuality and make it on her own in a time when sexism was the norm and homosexuality wasn't on the world's radar. Nancy starts the story as a shy farm girl hopelessly in love with a woman who earns a living performing on stage as a man, becomes a singer and cross-dresser herself, ends up on the streets enganging in prostitution, becomes a rich woman's love slave, and then settles down to find true love.
If Tipping the Velvet follows the story as presented in the miniseries, that'll mean a lot of pretty explicit sex scenes between Longoria and Knowles. Beyonce says, "we've had Brokeback Mountain so the time is right for this divine novel to get the same treatment." The Brokeback Mountain comparison is a good one. Velvet isn't about lesbian cowboys, but the intelligent, pull-no-punches way in which the material is presented fits into that mold.
The miniseries is great, and it could easily be a great film too. Coppola is exceptionally well suited to it. Her style is a perfect fit. I'm not sure Beyonce has the acting chops necessary to pull off a deeply complex role like this one, but she has the singing voice and that'll help. If Sofia Coppola really is intent on casting someone like Eva Longoria or Beyonce, this may be a sign that she plans on contemporizing the story. After all, there weren't a lot of Mexican stage performers running around in Victorian era London.
Your Daily Blend of Entertainment News
Thank you for signing up to CinemaBlend. You will receive a verification email shortly.
There was a problem. Please refresh the page and try again.