The Big Difference Between Lucasfilm Before And After George Lucas Left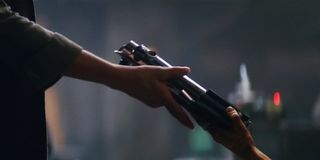 When George Lucas sold Lucasfilm to Disney back in 2012, many expected big changes, and there have been some—chief among these is the Star Wars universe expanding at a rate we've never seen before. But Disney CEO Bob Iger is also known for keeping things relatively the same in the companies the Mouse House acquires, for not going in and mucking up a formula that works. Though Kathleen Kennedy retained her position as President of Lucasfilm after the sale, she admits there is one thing that's different in the post-George Lucas era.
George Lucas is obviously the one who was the driving force behind Star Wars since its inception. It was his baby, and as such, Kathleen Kennedy told Vanity Fair that there was a deference to his vision, though that's not the case anymore. She said:
It makes sense that, with George Lucas out of the picture, things would change in the Star Wars universe. For so long he was the one with all of the control, who made all the decisions, and that has certainly different since Lucasfilm changed hands. Now there is more of a collection of people, a kind of brain trust, that is working to expand the brand like never before, and it's clear that no one around those offices is sitting back and waiting, they're making things happen at an impressive rate.
Just one quick look at how the world of Star Wars is growing and it's clear there's a new method being used. Star Wars: The Force Awakens was just the first of six new movies that will drop one-a-year for the next few years, and likely beyond. In addition to continuing the main Episode saga, there will also be the Star Wars Story films, which will tell stories from outside the main storyline. Then there tons of new novels, a collection of comic book titles published through Marvel (another Disney venture), video games, and the animated Star War Rebels, all of which are official canon. When he was around, George Lucas dabbled in all of these mediums, but never to the rate and extent at which Lucasfilm is currently working.
Star Wars: The Force Awakens just crossed the $2 billion threshold at the global box office, and Lucasfilm's continued attempt to take over the world continues later this year when Star Wars: Rogue One opens on December 16. And though it was delayed, we'll still get the Rian Johnson-directed Star Wars: Episode VIII on December 15, 2017.
Your Daily Blend of Entertainment News