Star Wars: Rogue One Is Taking This Step To Ensure Accuracy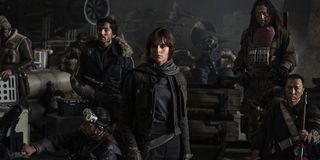 By now you've realized that Star Wars: The Force Awakens is in the process of taking over the damn world. In light of this madness, it's easy to lose sight of the fact that this is just the first step in Lucasfilm's plan for total global domination and that we're going to get a new Star Wars movie every year for the foreseeable future. The next installment, the first of the standalone Star Wars Story movies, Rogue One, has been likened to a gritty war movie, and according to a new report, the production is taking steps to ensure that it feels authentic.
If watching Rogue One does indeed wind up feeling like watching a war movie, that will be due, at least in part, to the fact that a number of real life soldiers and military personal are serving as extras. Forces.tv reports that the production has enlisted members of the British armed forces to populate the film and lend an air of authenticity to the proceedings.
Approximately 40 members of an Army Air Corps Apache unit, the Royal Navy, and the Royal Air Force were given the opportunity to take their leave and use it to venture to a galaxy far, far away. They shot top secret scenes on sets located in massive sheds at Cardington in Bedfordshire, a locale the saga has visited before—Episode IV filmed there back in 1976.
Like the bulk of the population, many of these military folks are life-long Star Wars fans, but when the offer first came down, they were skeptical. The article's source, who preferred to remain nameless, said:
Primarily, the Gareth Edwards-directed Rogue One was looking for pilots, aircraft mechanics, and people who would look natural in such environments, like they know what to do in a military setting. They did have to sign non-disclosure agreements, and all cameras and phones had to be locked away in order to ensure secrecy, but given their background in the military, this probably wasn't a huge deal.
We don't know a ton about Rogue One at this point, but it is set in the time just prior to A New Hope, and the plot revolves around the theft of the plans for the first Death Star. Described as both a heist movie and a war film—it's been compared to Hamburger Hill—and said not to involve many, or any, Jedi, however this plays out it's sure to be something quite different for the Star Wars universe.
Rogue One doesn't open until December 16, 2016, but you can now finally see Star Wars: The Force Awakens in theaters, and it appears that many of you have already taken advantage of that fact.
Your Daily Blend of Entertainment News