Big Hero 6: 5 Behind The Scenes Stories Every Fan Should Know!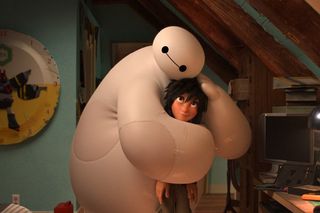 Walt Disney Animation has been on a serious roll the last few years. Starting with the fairy tale Tangled in 2010, the company has put out the critically-acclaimed Winnie The Pooh in 2011, the hit Wreck-It Ralph in 2012, and the phenomenon that is Frozen in 2013. So how can they possibly top themselves for 2014? How about combining creative forces with one of the biggest brands in modern Hollywood? Marvel Comics' Big Hero 6 is the next feature coming your way from the legendary animation company, and earlier this summer I got to be a part of a very special a behind the scenes look at the film.
Inspired by though not directly based on the comics created by Steven T. Seagle and Duncan Rouleau, Big Hero 6 begins in the fictional city of San Fransokyo and follows the story of Hiro Hamada (Ryan Potter), a young robotics prodigy. With the support and inspiration of his big brother Tadashi (Daniel Henney), he makes a huge scientific breakthrough in the field of mind-controlled nanobots while on the verge of attending an esteemed technological university. On the night he shows his invention to the world, however, disaster strikes, Tadashi is killed, and the nanobots are seemingly destroyed. What Hiro eventually realizes, however, is that his invention was actually stolen by a villain who has an incredibly dastardly plan, leading our main character to team up with a group of five friends and a soft, lovable nurse robot named Baymax to play superhero and defeat evil.
To get an early look at the still-in-progress film, this past July I was invited along with a group of other film journalists to not only tour the halls of Walt Disney Animation Studios, but to visit the various departments and talk with the men and women responsible for taking the project from its original concept to its final stages. As part of the day's events, I also had the fantastic opportunity to sit down with the two men responsible for making it all happen: directors Don Hall and Chris Williams. I had an absolutely enlightening experience talking with the two filmmakers about their work and its greatest influences, and now I can share with you what I learned!
Frozen Definitely 'Ratcheted Up The Pressure'
While the folks at Walt Disney Animation are certainly no strangers to the feelings of success and accomplishment, Frozen was such a truly extraordinary win that we are still seeing reverb from it to this day. As the title that is serving as the follow up, Big Hero 6 naturally has quite a bit of pressure on it – and it's pressure that the directors openly admit to feeling.
Asked about the larger mark that the snow-covered fairy tale has left on the goings-on at Disney, Don Hall admitted that the environment at the studio has changed to a degree, mostly in terms of outlook and anticipation. "[Frozen] certainly ratcheted up the pressure as far as it was a really great movie, is well received, and we loved it - and so you just want to make sure you don't drop the ball," the director said. "It has all the heart and humor that you would expect from a Disney film. But [Frozen] certainly raised the bar."
Of course, because animated films take such a long time to make their way through development, Frozen's impact on Big Hero 6 at Disney is more represented in the mentality of the filmmakers than the actual movie. After last year's blockbuster, there was no kind of rush to add in any kind of new details or elements that would make the new movie more like the hit in terms of content or appeal. "There was nothing along those lines at all," Chris Williams confirmed.
Marvel Was Definitely A Presence, But They Also Kept Their Distance
Every film fan in the world at this point is aware of the blockbuster juggernaut that Marvel Studios has become, so it's not exactly hard to understand why Disney would be interested in further expanding their big screen relationship with the brand and base one of their new animated projects on one of Marvel's properties. What you may not know, though, is that when it came to Big Hero 6, the comic book comapny actually gave the filmmakers a lot of space and creative breathing room.
Curious about Marvel's presence and input on the Disney animated film, I asked the directors about how often they were getting feedback and hearing notes from the company, and the filmmakers' response was surprising. Rather than being a day-to-day presence, important company figures like Joe Quesada (Marvel's former Editor in Chief) and Jeph Loeb (Marvel's Head of Television) have instead been described as more "friends of the court" who come in for the progress screenings and have never really ever given any "major" notes.
"It was never like, 'At Marvel we do this,'" Williams described. "They had a real understanding that it's something that's a great property to build off of, but you're going to make it your own. They were not protective about it at all."
Disney's Animated Movies Get Ripped To Shreds In Their Earliest Stages
Visiting the departments of Walt Disney Animation Studios, one of the most shocking things I learned about were the early test screenings that every feature project at the company has to eventually go through. When the movies are still in their earliest "completed" forms (put together with drawings, animatics and storyboards), they are shown to the higher-ups and story development teams – who proceed to criticize and break down every little detail to the point where just about everything that has been done must be entirely changed. From the way the filmmakers described it, this is easily one of the most brutal aspects of the animated movie-making process. But they also understand and recognize why it's such an important step.
The key to this, of course, is understanding that one person at Walt Disney Animation is part of a much bigger creative force and that everyone at the end of the day has the exact same goal in mind: creating the best finished product imaginable.
"Almost anybody who comes into this place as a story artist for the story department, they come in a little bit more uptight and more precious and protective of their ideas, " Hall said. "Eventually, over time, you start to learn that's just not the way around here, and it ultimately doesn't bare the fruit….You often times find, 'I don't necessarily agree with what you're saying but you're giving me an idea.' Being open to even the ideas you're not sure about can be very fruitful."
Big Hero 6's Influences Were Extremely Wide-Ranging
Taking a brief look at Disney Big Hero 6, you can start to see some of the influences that clearly had a huge impact on both the development of the story and the aesthetic look. There is certainly the present legacy of Walt Disney Animation Studios playing a role, not to mention the source material "Big Hero 6" comics, but it goes far beyond those two areas.
In trying to find a way to access the story and world of Big Hero 6, Don Hall and Chris Williams looked not only in the more obvious directions, but also at much more complicated, denser, darker material. One title that I was particularly surprised to hear referenced as an influence was the Robert Redford-directed feature Ordinary People - a film that also deals with what happens when a family must deal with the loss of an older son.
Hall and Williams looked to more than just American influences for Big Hero 6, however. There is just as much taken from Japanese culture in the film as there is material from the good ol' U.S. of A. In making their feature adaptation, the two directors took a lot of inspiration from Japanese anime directed largely at kids – especially the stuff involving kids with robots. Another interestingly specific title name-dropped by Hall was Akira, which I imagine we'll see flashes of in both the character development as well as the action and animation.
At Its Core, Big Hero 6 Is Actually About Dealing With Death
Walt Disney Animation has spent decades as one of the world's greatest resources for not only great family entertainment and fun, but also important messages and stories that really wind up helping many of us develop as people. Big Hero 6 is no exception, and has a deep, core meaning that could prove to be very important for the feature's audience.
"Something that always spoke to me is the simple truth that when you lose somebody, they're not necessarily gone completely," Williams said, referring to the death of Hiro's older brother in the film. "In one sense they're gone, on the other hand they can live on through you, and influence the choices that you make…. I think a lot of times what a movie can do is take these simple truths that maybe on some level seem trite, but they're true and they're important and if you can reintroduce them in a way that is meaningful, then that's great."
Watching select scenes from Big Hero 6 during the press day, I quickly became acutely aware of the interesting relationship between the incredibly smart and emotional Hiro and Baymax, his loveable-but-simple robot pal. It became clear that the driving force behind their pairing in the story is that Baymax is trying to help Hiro heal after his devastating loss.
Said Williams, "Big Hero 6 is also this awesome, big action packed superhero origin story, but there needs to say something thematically or it's just fluff."
Big Hero 6 will be in theaters on November 7, and stay tuned in the coming days, weeks and months for more of our coverage!
Assistant Managing Editor
NJ native who calls LA home and lives in a Dreamatorium. A decade-plus CinemaBlend veteran who is endlessly enthusiastic about the career he's dreamt of since seventh grade.
Your Daily Blend of Entertainment News
Thank you for signing up to CinemaBlend. You will receive a verification email shortly.
There was a problem. Please refresh the page and try again.