The Big Role Cyborg May Have In Justice League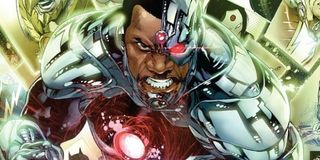 All eyes are currently on the Avengers because Captain America: Civil War is killing it at the box office, but let's not forget about DC's Justice League. With barely a year and a half left until Justice League Part One hits theaters, we still know very little about the iconic DC team's first silver screen outing. Batman, Superman and Wonder Woman have had their chances to shine, but what about the rest? We've just learned some new information about Justice League Part One, and it seems to indicate that Ray Fisher's Cyborg will have a major role in helping combat the film's villain.
On the latest episode of POPBOOM's Heroic Insider show, hosts Umberto Gonzalez & Daniel Alter discussed recent reports about Cyborg's role in the upcoming Justice League film. According to the rumors that they have heard, Cyborg's access to Mother Box technology will allow him to teach the members of the Justice League about the nature of Darkseid's plan on Earth, and inform them regarding how to take the ruler of Apokolips down.
This news seems to generally fit what many DC fans had assumed after they saw Batman V Superman: Dawn of Justice. During the "email scene" in which Diana Prince watched three videos introducing the newest members of the Justice League, Cyborg's segment showed Victor Stone strapped to a table while a glowing cube began assimilating his body and turned him into the techno-hero we all know and love. Many fans had come to believe that this cube is in fact a Mother Box – a miniaturized super computer native to the world of Apokolips.
If this rumor is true, then it would seem to indicate that the DCEU is continuing to embrace many elements of the New 52 comic book continuity. In the recent Justice League: Origin arc, as well as the animated Justice League: War film, it's Cyborg's ability to interface with Mother Boxes that ultimately helps the Justice League understand what Darkseid wants to do to the Earth and it's inhabitants. We've already seen Parademons and the Omega symbol, so a Mother Box would seem like a logical addition to the Apokolips heavy storyline in Zack Snyder's upcoming film.
One interesting thing to note about this rumor is that it's incredibly Darkseid-centric, and makes no mention of the recently rumored main villain of Justice League Part One, Steppenwolf. This could point to the possibility of Steppenwolf not actually being the villain, or that the Mother Boxes do not coming into play until after Steppenwolf has been taken down and Darkseid steps in to fill the film's villainous void. It's too soon to tell.
Check out the clip from Heroic Insider below to see hear the rumor for yourself:
Only time will tell if this is the role Cyborg plays in the upcoming Justice League film. It matches up perfectly with the source material, so we have a distinct feeling that this is how it will pan out. We will know for sure when Justice League Part One hits theaters on November 17, 2017.
Originally from Connecticut, Conner grew up in San Diego and graduated from Chapman University in 2014. He now lives in Los Angeles working in and around the entertainment industry and can mostly be found binging horror movies and chugging coffee.
Your Daily Blend of Entertainment News
Thank you for signing up to CinemaBlend. You will receive a verification email shortly.
There was a problem. Please refresh the page and try again.