The Bizarre Story Of How Jeff Goldblum And Christopher Walken Did And Did Not Meet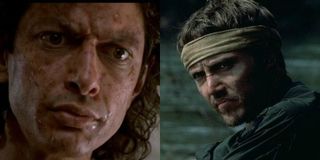 Jeff Goldblum and Christopher Walken are both Hollywood stalwarts who have each been a mainstay of the cinematic landscape for decades. As a result, you'd simply assume they were old pals -especially since they have five shared credits. However, Walken has now revealed that he didn't actually meet Goldblum until years after those projects.
Christopher Walken made the revelation during an interview with Yahoo! Movies to promote his recent turn as Hook in Peter Pan Live! Jeff Goldblum and Christopher Walken both starred in the 1970s films Next Stop, Greenwich Village,Annie Hall, The Sentinal, as well as 2006's Man of the Year, but bizarrely they never actually came across each other on the set of these films. They didn't even have their chance for their first meeting on a red carpet or even at a press junket. It was in fact at a Los Angeles stoplight that the two men finally came face to face. Walken told the site,
Unfortunately, Christopher Walken didn't go on to reveal whether this random meeting proved to be the catalyst for a long and fruitful friendship. Let's hope that it did though, because I can only imagine that a night out on the town sipping tequila alongside Jeff Goldblum and Christopher Walken would probably prove to be the greatest evening of all time.
Plus, let's face it: if you were a single gentleman that was looking to schmooze with an attractive lady, then it would literally be impossible not to do so with either this man ….
or this suave gentleman as your wing-man.
Of course, there is also the ridiculously high probability that the female in question would only be interested in seducing Christopher Walken or Jeff Goldblum. Which is completely understandable. Of course, both men are currently married, so that would definitely give you the leg up - but also might drive away the aforementioned woman. Still, I'm sure there would be good time to be had with just Walken and Goldblum, with both telling fun stories about Quentin Tarantino, Wes Anderson, Woody Allen and John Carpenter. Plus, you'd hope that they'd pick up the bill too. So it would probably still be worth it.
Your Daily Blend of Entertainment News
Your Daily Blend of Entertainment News
Thank you for signing up to CinemaBlend. You will receive a verification email shortly.
There was a problem. Please refresh the page and try again.