Blake Lively Is Green Lantern's Leading Lady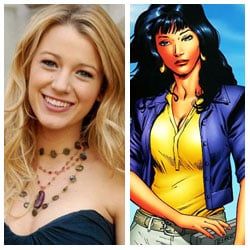 Green Lantern has found his leading lady and she's a Gossip Girl. Blake Lively will play Carol Ferris, the daughter of aerospace mogul Carl Ferris. She runs her father's company and winds up hiring Hal Jordan (Ryan Reynolds) as a test pilot and, of course, falls for him. In the comics their relationship hits a wall when she becomes the #1 at the company and an alien race dubs her the new Star Sapphire.
Back in December we told you about the final five for the role, which included Lively as well as Eva Green, Keri Russell, Diane Kruger and Jennifer Garner. At the time I thought Lively was the least likely of the bunch to nab the role, but clearly I was wrong. THR mentions that even the filmmakers were aware of the fact that Lively was a little young for the role, but they were so overwhelmed by her performance in The Town that they had to go for her.
Between Gossip Girl, Accepted and the Sisterhood of the Traveling Pants movies, I was convinced Lively didn't have the range to expand herself beyond playing a mindless pretty blond girl. That all changed after The Private Lives of Pippa Lee. Not that the role of Carol Ferris is expected to require much range, but at least we know she's capable of expanding beyond her norm.
Next on director Martin Campbell's casting list? The villainous genius Dr. Hector Hammond and the evil alien Sinestro. Shooting is scheduled to kick of in March in Louisiana putting the film on track for a June 17th, 2011 release.
Your Daily Blend of Entertainment News
Staff Writer for CinemaBlend.