Blue Skinned Manga Warrior on Film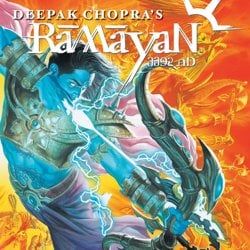 The graphic novel, Ramayan 3392 A.D. is being adapted into a feature film and a multi-player online game, by Mandalay Pictures and Sony Online Entertainment, respectively. The story of the comic was originally conceptualized by Deepak Chopra and Shekhar Kapur. The comic sounds like post-apocalyptic manga with a message at its best.
As The Hollywood Reporter describes it, Ramayan exists in an imagined world where continents have literally been divided by three nuclear wars. The last settlement of human beings exists in a small city called Armagarh. The storyline concerns the trials of a blue-skinned warrior prince named Rama, and his quest to rescue his wife from a Demon King.
John Collee, who wrote Master and Commander and Happy Feet will adapt the comic book. Ramayan belongs to Liquid Comics, which used to be a subsidiary of the Virgin Empire, and was called Virgin Comics.
It seems that Liquid came it at just the right time, with numerous lucrative projects underway. Virulents, and The Gamekeeper are both being adapted into flicks.
No director has been announced, but Mark Canton will produce. Canton was involved with both 300 and The Spiderwick Chronicles. Sounds promising!
Your Daily Blend of Entertainment News
Thank you for signing up to CinemaBlend. You will receive a verification email shortly.
There was a problem. Please refresh the page and try again.