The Blunt Reason Hellboy 3 Won't Ever Happen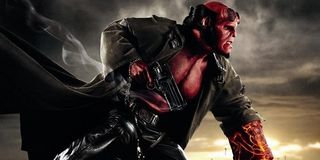 Hellboy III - a name with so much weight and expectation behind it, you probably need a moment to stop yelling at your screen for it to happen. That said, it's also a name you shouldn't expect to see on a marquee any time soon – as Guillermo del Toro has downgraded the project's status once more – and that's something you can blame Hollywood for.
On Josh Horowitz' Happy Sad Confused podcast over at Wolfpop, the Crimson Peak director was invited to have a rather insightful discussion that shed some light onto his process, as well as some projects that are in limbo – if not completely dismantled. Which, of course, means that Hellboy III needed to be talked about for at least two minutes, so as to keep hope alive. Unfortunately, hope seems to be dashed, as studios aren't clamoring to fund the film, and as Del Toro finally explained, the home video market that made the first two films so successful has all but dried up. Without that market as a viable fallback, the idea of a studio funding a third Hellboy movie just becomes too risky. It's a sad reality of the business, and of Del Toro's career.
That doesn't mean that Guillermo del Toro won't still talk about the project on his own terms, as he stated that he and frequent collaborator Ron Perlman had discussed the possibility of Hellboy III. Though time and time again studio involvement has been pegged as non-existent, it seems even more concrete this time around, thanks to the "indefinite hold" that Pacific Rim 2 has been placed into by Universal Studios. With that project in danger of cancellation, the possible bargain that would have lead to Hellboy III's production is just as dead, seeing as that film was dependent on Pacific Rim 2 delivering enough box office to justify it.
Honestly, the more that Guillermo del Toro talks about making weird little films, as he does in his conversation with Horowitz, the more it sounds like he should take a sort of blockbuster sabbatical to focus on those sorts of projects. With a smaller budget, and less studio interference, del Toro will be allowed to get his artistic juices flowing without interruption. This could lead to more projects like Pan's Labyrinth that gain critical acclaim, as well as a broad movie-going fanbase. In addition, his fan base can strengthen / grow organically to the point where he may be able to transcend his reputation as a "genre" filmmaker, thus granting him access to bigger budgets and less difficulty green-lighting projects.
Guillermo del Toro is a talented enough filmmaker that he can do pretty much anything. All he lacks is a big enough fan base to goad major studios into bowing to his will, a la Christopher Nolan. If he can capture that, he'll have a blank check that he can write out however he likes. You can listen to the entirety of Josh Horowitz and Guillermo del Toro's conversation on the Happy Sad Confused podcast in the embed below.
Crimson Peak opens in theaters next Friday, while Hellboy III is undoubtedly in Purgatory – waiting for the right demon to save the day.
Senior Movies Contributor
CinemaBlend's James Bond (expert). Also versed in Large Scale Aggressors, time travel, and Guillermo del Toro. He fights for The User.
Your Daily Blend of Entertainment News
Thank you for signing up to CinemaBlend. You will receive a verification email shortly.
There was a problem. Please refresh the page and try again.