The Boondock Saints 3 Title and Plot Revealed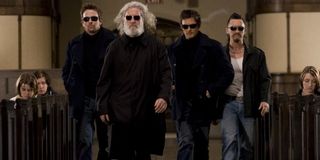 Filmmaker Troy Duffy is a prime example of the kind of story Hollywood loves – a rags to riches tale that featured phenomenal success, crashing failure, and if not redemption, then at least resurrection. The Boondock Saints filmmaker is hard at work penning the next chapter in his personal autobiography, while also promising that a third film in his beloved cult action franchise is in the works. If that doesn't make you smile, we don't know what will.
We first got wind of a new story featuring fraternal twin vigilantes Connor and Murphy McManus (Sean Patrick Flanery and The Walking Dead's Norman Reedus) back in 2012, then more when Duffy showed off the first page of the new script earlier this year. Now, website FlickeringMyth reveals that the new feature has a subtitle and the vaguest hint of a plot.
Apparently, the new feature will pick up sometime after the end of The Boondock Saints 2: All Saints Day, and will come with the subtitle Legion. At first, I was sort of excited because I thought maybe this meant Connor and Murphy were gonna go all Supernatural on us and start hunting down minions from Hell, but no such luck. Instead, Troy Duffy explains that the title refers to the legions of people who follow in the McManus' footsteps and start taking the law into their own hands in order to clean up the streets.
Duffy also promises that The Boondock Saints 3: Legion will explore the brothers' newfound status as folk heroes, and will even go back to reveal their "very first crime." We can only imagine what that law-breaking infraction might have been.
While it's been five years since The Boondock Saints 2: All Saints Day was released, Duffy doesn't seem particularly interested in rushing this newest installment. The second film was delayed for years thanks to legal wrangling, but the hold up with the new entry is something much less frustrating: Troy Duffy feels that he owes it to the fans to get this one right.
Say what you will about Troy Duffy as a person and a filmmaker (and if you've never seen Overnight, the documentary about his rise and fall in the wake of The Boondock Saints, you really should remedy that as soon as you can. It's captivating to watch in the most horrible way imaginable), but he does really seem to appreciate the fact that there's a cult audience out there who loves the Brothers McManus. He could have gone for the easy money and churned out countless sequels in the wake of All Saints Day, but instead he's crafted a vision and dedicated himself to keeping those fans happy with new material that hopefully lives up to the lineage of the original. Even if you're not a fan of The Boondock Saints, you have to admire that.
Your Daily Blend of Entertainment News
Thank you for signing up to CinemaBlend. You will receive a verification email shortly.
There was a problem. Please refresh the page and try again.