Boyd Holbrook Will Get Between Elizabeth Olsen And Dakota Fanning In Very Good Girls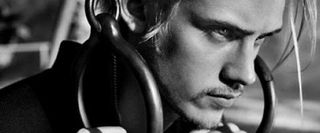 You've probably never heard of Boyd Holbrook before, but let's be honest-- you'd never heard of Robert Pattinson or Channing Tatum or even Justin Bieber before suddenly they were everywhere, the new heartthrob who women and girls of a certain age suddenly couldn't get enough of. Stardom like that isn't guaranteed, of course, but Holbrook is setting himself up pretty well with a lot of recent roles, including one in The Host, an adaptation of Stephenie Meyer's novel. You remember what happened the last time they made a movie from one of Meyer's books? It was Twilight.
Anyway, Holbrook isn't locked into a Twilight-level franchise just yet, which gives him room to take on a wider variety of roles, including the upcoming TV series Hatfields & McCoys and now the film Very Good Girls, which stars Dakota Fanning and Elizabeth Olsen. According to Deadline Holbrook will play the young artist both girls fall in love with, in the drama directed by Naomi Foner, making her directorial debut after a career as a producer and writer of films like Losing Isaiah and Bee Season. Peter Sarsgaard and Demi Moore are also on board, but it looks like Holbrook will be replacing Anton Yelchin, who was said to be joining back in January.
The film is set to shoot in New York this summer, and the team-up of Fanning and Olsen still is probably the most interesting thing about it. Fanning hasn't had a starring role since the sci-fi Push and voicing the title character of Coraline in early 2009-- since then it's been supporting parts in the Twilight movies and The Runaways to keep her busy. In the meantime Olsen's career has taken off at a full gallop, with her breakout role in Martha Marcy May Marlene leading to tons of offers, including in Spike Lee's Oldboy remake. Fanning is the talented child actress who grew up to be great, and Olsen is the girl who grew up in the shadow of two other child actresses-- Mary-Kate and Ashley, of course-- to emerge brilliant. It will be fascinating to see the two of them team up together.
Staff Writer at CinemaBlend
Your Daily Blend of Entertainment News
Thank you for signing up to CinemaBlend. You will receive a verification email shortly.
There was a problem. Please refresh the page and try again.