Bradley Cooper Might Play A Badass Who Frees Modern Day Slaves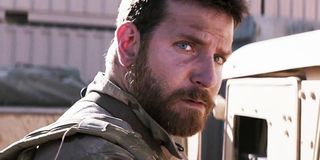 Bradley Cooper has entered negotiations with Warner Bros. to star in Orphan X, a project that he's also interested in producing. Cooper's impending role would see him drawn into the world of human slavery, playing a new different kind of hero counterbalancing his role in American Sniper.
According to the Hollywood Reporter, Bradley Cooper is currently in early discussions to produce Orphan X, and there's a chance that Warner Bros. could convince him to star in the project as well. The film is the adaptation of Gregg Hurwitz's book, which actually hasn't been released yet. In fact, if Warner Bros. and Cooper get a move on, Orphan X could hit cinemas before MacMillian publish the book in February 2016. The plan is to have Hurwitz write the screenplay for the film as well. Todd Phillips, who has previously directed Cooper in The Hangover series, is also in-line to produce.
So far, we only have rudimentary details surrounding the plot of the film. It's been described as a thriller, and Warner Bros. are hopeful that Bradley Cooper will star as the protagonist of the tale, Evan Smoak. He's described as a "Nowhere Man" - presumably meaning one who ducks in and out of the shadows - and it's noted that the character sometimes deploys violent actions to help others. One particular job that is orchestrated by a Los Angeles Police Department detective sees Smoak slowly lulled into the world of human slavery.
It certainly sounds like an intriguing effort, and if it's produced properly it should also evolve into a thought-provoking one too. Whether a newcomer like Gregg Hurwitz is up to the job is still very much up for debate though. The author is primarily known for books including "Don't Look Back," "Tell No Lies" and "The Survivor, but back in 2010, he also sold a spec script to Warner Bros. by the name of Expulsion. Adding to his work in the film/TV world, he also served as a writer and consulting producer on the ABC series V.
In addition to the writer, the potential success of Orphan X will also depend on who Bradley Cooper and company hire to direct the film. Cooper's recent track record in this regard suggests that he's only looking to work with established filmmaking talent - which is plainly obvious when you consider that American Sniper, Silver Linings Playbook and American Hustle, which Cooper previously produced as well as starred in, were directed by Clint Eastwood and David O. Russell.
Cooper is currently riding a wave of acclaim and popularity following his recent performance as Chris Kyle in American Sniper. Clint Eastwood's biopic was a surprise hit when it expanded into wide release this past January, and it has so far grossed $361.3 million. Meanwhile, it has also garnered six nominations for the 87th Academy Awards, which includes recognition in the Best Picture, Best Adapted Screenplay and Best Actor categories. The latter is Cooper's third nomination in this category in as many years. This success only suggests that if Warner Bros. does land Cooper for Orphan X, then they will likely have another hit on their hands.
Your Daily Blend of Entertainment News
Thank you for signing up to CinemaBlend. You will receive a verification email shortly.
There was a problem. Please refresh the page and try again.