Brendan Fraser May Bail On Journey To The Center Of The Earth 2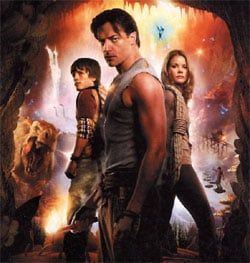 Back in 2008 Journey to the Center of the Earth was one of the first digital 3D films I had ever seen, and I thought it was a blast. Full of cheesy action sequences in which things flew out of the screen for no reason, and a typically hammy Brendan Fraser performance, it was like going to an amusement park in your theater-- an experience very, very few 3D films have matched since.
Quite honestly, I had kind of forgotten about the movie in the intervening years, but New Line didn't-- the studio is still planning a sequel, and apparently caught up in the 3D gold rush, they're trying to move fast. Deadline Hollywood reports that the production is aiming for a fall 2011 release date, which is so fast that original director Eric Brevig wouldn't be able to come back-- and with him goes Brendan Fraser too. New Line is trying to bring in someone like Cats & Dogs: The Revenge of Kitty Galore director Brad Peyton, but without Brevig Fraser will bounce, leaving Josh Hutcherson, who played Fraser's son in the film, to take over the lead role.
The first film really only felt a step or two above totally cheesy 3D exploitation, and it now seems inevitable that the sequel will be exactly that. Fraser is probably smart to bail, but then again, he made Furry Vengeance too, so I'm not sure exactly where his head is right now.
Your Daily Blend of Entertainment News
Staff Writer at CinemaBlend