Brilliant Girl Scouts Use Leonardo DiCaprio To Sell Their Cookies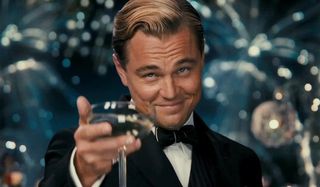 Leonardo DiCaprio finally landed the Best Actor Academy Award that he has been coveting for over two decades at the end of last month. But while you might have thought that the actor won his accolade for just how silently effective and intense his portrayal in The Revenant was, his success was mostly down to the fact that Leonardo DiCaprio ate a pack of girl scout cookies halfway through the ceremony. Don't believe me? Then check out this ingenious advert from a Girl Scout troop trying to raise money.
Admit it, the most endearing image of Leonardo DiCaprio from the 88th Academy Awards wasn't him finally collecting his Oscar from Julianne Moore, or the impassioned end to his speech where he mentioned climate control, or even him hugging his Titanic co-star Kate Winslet and making us all wish it was 1997 again.
It was Leonardo DiCaprio, with his tongue protruding from his lips, opening up a bag of Girl Scout cookies and then looking down at the packet as if he was a five-year-old boy that was about to devour the packet in one whole sitting. What made the picture even better was the fact that his mother, Irmelin Indenbirken, sat right next to him. It could only have been topped if she'd slapped his wrist, taken away the cookies, and proclaimed, "Not until after your Oscar."
Girl Scout cookies across the United States Of America got a very big helping hand from Chris Rock as he hosted the Academy Awards last month. Not only did Chris Rock invite a posse of Girl Scouts inside the Dolby Theatre so that they could pester the Hollywood elite for money, but they also helped to raise over $65,000 for Girl Scouts Of The USA, too. (Though the accuracy of that final number is in question...)
In fact, at the end of the ceremony, Morgan Freeman was so intent on getting cookies that he even interrupted Chris Rock's closing remarks to pick them out of the comedian's hand. When you've got to eat, you've got to eat.
Your Daily Blend of Entertainment News
Thank you for signing up to CinemaBlend. You will receive a verification email shortly.
There was a problem. Please refresh the page and try again.