Brilliant Teaser Trailer For Up In The Air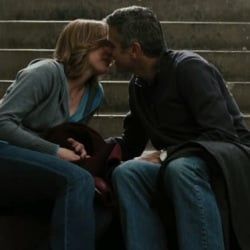 This might just be preconceived notions talking-- Up in the Air was a huge hit when it did a sneak peek at the Telluride Film Festival, and I've been dying to see even a small bit of it ever since. But really, I think the movie's first teaser trailer, available at Slashfilm and embedded below, is a bit of genius.
Centered around a speech given by George Clooney's corporate character Ryan Bingham, the dialogue of the trailer proposes that relationships, family and love are the baggage keeping you from success, while the visuals, introducing us to the two other main characters played by Anna Kendrick and Vera Farmiga, suggest exactly the opposite. It's brilliant editing paired with a speech that would sound a bit speechy if a) if weren't given by George Clooney, and b) it weren't exactly the kind of philosophy that modern business espouses every day.
Really, the whole thing just looks tremendous, and I hope I can manage to see the movie before all these high expectations potentially weigh it down. Also keep an eye out for a bunch of familiar faces I had no idea were in the movie-- Juno alums J.K. Simmons and Jason Bateman, as well as Danny McBride, hopefully for no reason other than that he should be part of every movie, period.
Check out the trailer below, and look for more reviews of the film to hit the web after it premieres at the Toronto Film Festival next week.
Staff Writer at CinemaBlend
Your Daily Blend of Entertainment News
Thank you for signing up to CinemaBlend. You will receive a verification email shortly.
There was a problem. Please refresh the page and try again.