Bryan Fuller Teases Pushing Daisies Movie With Zombies!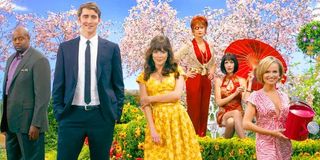 One of the casualties of the 2008 Writer's Guild strike was regrettably Bryan Fuller's winsome comedy noir series Pushing Daisies. Though the show was only on the air for two short seasons, it developed a devoted fanbase that has only grown more vocal since its untimely death. Fully aware of the still brewing fandom for the Pie Maker and his kooky crew, Fuller has publicly pondered other ways to complete the story's arc, from a comic book series, to a Broadway show to a movie spin-off. And with the success of Veronica Mars' groundbreaking Kickstarter campaign, the movie seems more likely than ever before.
Den of Geek recently sat down with Fuller to talk about his latest TV venture, the Mads Mikkelsen-fronted Hannibal, but thankfully they also took this opportunity to ask about the possible Pushing Daisies movie. Not only did Fuller reconfirm his interest in Kickstarter funding, but also he dropped details on what new travesty would befall the beloved Pie Maker Ned.
Funny enough, this is a plot line that the inventive series about a man with the mystical power to bring the dead back to life (with some gruesome constraints) never tapped into. And though Fuller doesn't discuss how this might tie into the series' running mystery plot, it seems this could be a scheme made by Chuck's enigmatic and freshly undead father. Of course, even if this were a one-off adventure, I'd be on board. Hell, I'm on board for any chance to see Ned, Chuck, Olive and Emerson Cod reunited. How about you?
This poll is no longer available.
Your Daily Blend of Entertainment News
Staff writer at CinemaBlend.
Your Daily Blend of Entertainment News
Thank you for signing up to CinemaBlend. You will receive a verification email shortly.
There was a problem. Please refresh the page and try again.