Bunny Lake Is Missing In Real Life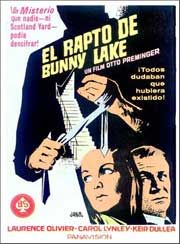 Reese Witherspoon is a big fat bitch she's the biggest bitch in the whole wide world she's a bitch to you she's a bitch to me she's a bitch to all the boys and girls.
Now these might seem strong words to direct at America's sweetheart (though Kevin Smith is most likely nodding in approval). But what else can one say in such circumstances. And what may you ask are the circumstances that go along with this outburst? Well gentle friends I'll tell you. Reese Witherspoon has just screwed over Joseph Carnahan.
A quick recap. Joe Carnahan might be the unluckiest man in Hollywood. After making the fun indie film Blood Guts Bullets and Octane, and then tearing the roof off of the place in Narc, Carnahan was subject to destroyed dream projects, long spans in development hell, and Tom Cruise messing with his mind for about a year. Until he returned this January with the fun Smoking Aces, and things were finally looking up for Carnahan. He had a solid hit, and two projects almost ready to roll. The six year exile in the woods seemed just about over.
Until today, when a month before shooting started on Bunny Lake Is Missing Reese pulled out, leaving Carnahan at the altar. I'm not going to lie and say I was super psyched to see a remake of Bunny Lake Is Missing. The original was a fun little flick with a nice sense of paranoia, some good performances, and a flat out crazy ending. I couldn't really see where Carnahan's super macho cinema would fit into the picture but I'm always excited to see a director try something new.
Still this doesn't seem like an issue now, because unless Carnahan can find another A list actress who isn't doing anything the project might be sunk. Lo such wailing and gnashing of teeth!!!
Your Daily Blend of Entertainment News