Buy Into A Tradition By Jumping The Broom On Blu-ray In August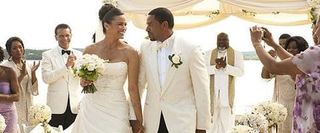 While Jumping The Broom is in some ways rife with ridiculous stereotypes, the film as a whole is pretty entertaining. I would normally go ahead and attribute this to the incorporation of Mike Epps and his impeccable comedic timing. However, in the case of Jumping The Broom, Angela Bassett, Loretta Devine, and Tasha Smith really pull some weight, too. I'm not saying a film about class wars, embarrassing family members and a wedding always comes through in the clutch, but it'll do as an On Demand rental or an HBO kind of afternoon. You can catch Jumping The Broom's DVD or Blu-Ray release on August 9, or any rainy day thereafter.
Though Jumping The Broom pulled in a respectable $37 million on a $6.6 million budget, Sony Pictures Home Entertainment has skimped on the film's home release. The extras that will be present include director commentary, cast commentary, a "You're Invited" featurette, and a second featurette discussing the tradition of "jumping the broom." It doesn't seem like much, but if budget dictates special features, it would go a long way to explain why some basics, like deleted scenes, are missing from this list.
Even if the features aren't impressive, Salim Akil's film is still worth a watch. If you were a fan of Soul Food or The CW's Girlfriends, it's likely you'll enjoy Jumping The Broom. The film is the first movie Akil's worked on since 1999's Sundance previewed Drylongso. It may not be a masterpiece, but it shows inklings of a director who could really go someplace with the right ensemble casts.
Your Daily Blend of Entertainment News
Thank you for signing up to CinemaBlend. You will receive a verification email shortly.
There was a problem. Please refresh the page and try again.