CB Recommends: Movies In Theaters For The May 13th Weekend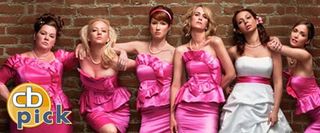 Ladies and gentlemen, boys and girls, children of all ages, it's an ungodly hour early on a Thursday morning which means I'm frantically punching the keyboard like Sean Connery's yelling at me in Finding Forrester to finish this thing before CB Head Honcho Josh Tyler angrily replaces me with my younger brother, who happens to be a frost giant. I'm on thin ice as it is thanks to a misguided assumption I made last week, but I'll begrudgingly cover that later. In the mean time, let me tell you what the hell you're doing here.
Every week, a slew of new cinematic efforts open in a variety of formats across giant, corporate run theaters and small independent operations. In a perfect world, we would have time and money to see them all, but since very few of us can stop time like Zack Morris in Saved By The Bell, we're forced to weed through trailers and reviews to figure out which ones are worth taking in. That's where CB Recommends comes in. The weekly column wades through all that's available, ultimately offering a uniform choice of what to see based on your goals, motivations and viewpoints. With the slingshot engaged and the snark turned up to medium-high, here's what Cinema Blend recommends for the week of May 11th, 2011...
If you want to see the best movie, CB recommends...
… pretending those awful trailers never happened and paying for Bridesmaids. Let's just call an ugly chick an ugly chick here. Every single promotional material put out for Bridesmaids thus far has smelt of desperation and frantic effort. Despite the please-laugh vibe, I was sorta on board with the first poster's angle, but after two miserable trailers and a stampede of bad commercials, I started to reassess my original take. Maybe Freaks And Geeks creator Paul Feig really missed the boat on this one? Apparently not. Early buzz for the actual movie is great. CB's Eric Eisenberg has been screaming its praises to anyone who would listen, and our own Josh Tyler just gave the film four stars.
If you're mad about how much Something Borrowed sucked, CB recommends...
… completely ignoring my ill-advised mutterings last week and giving Jumping The Broom a chance. As the movie wasn't screened ahead of time for critics and offered a trailer so bad it made Bridesmaids' horrid effort look like Wedding Crashers, I went with the smart money and bet it was godawful. My screening did feature plenty of talk about the big man upstairs, but none of it was directly related to cursing him for Jumping The Broom. In fact, I gave the film three and a half stars. It may not be perfect, but it's a hell of a lot deeper and more charming than Something Borrowed. Once again, my bad. That one's on CB Recommends.
If you're looking for a great indie, CB recommends...
… taking yet another strange plunge with Joseph Gordon-Levitt in Hesher. The thirty year old actor may be most famous for his stint on 3rd Rock From The Sun, his supporting part in Inception and his lead in 10 Things I Hate About You (all of which I defend), but it's his groundbreaking independent flicks that have pushed him into elite actor status. He played a fast-talking high school sleuth in Brick, a manipulated guard in The Lookout and a heartbroken lover in (500) Days Of Summer. Now he's set his sights on a strange, long-haired drifter in Hesher. Brazen risk taking doesn't always pay off, but in a cinematic landscape filled with remakes and retreads, an actor trying something new should be supported.
If you'd rather sit on the couch, CB recommends...
… building ill-advised contraptions while watching Home Improvement: The Complete Collection. It's been more than ten years since the Tim Allen comedy broadcast its 204th and last episode, but the show remains among the best background noise programs ever conceived. With easy to follow plots and a consistent stream of humorous explosions and low-pitched grunts, Home Improvement is a wonderful marathon show because its content perfectly lends itself to multi-tasking. Now it's all on DVD in one collection. Buy it, get inspired and try to build your own hot tub. Just make sure to invite your own bearded friend to complain while you're doing it. It's the Home Improvement formula.
CB Recommends answers your email.
You should be ashamed of yourself, Jasmine. Actually, I'm just kidding. I didn't see my first Chaplin movie until I was in college, and I suspect a lot more people are in your camp than they might care to admit. I would probably start with The Gold Rush. That's the one that features the iconic shoe-eating scene, and it's also reported to have been Chaplin's personal favorite.
Order The Gold Rush right now with from Amazon here.
Want even more viewing advice? Check out our CB Recommends archive.
Enthusiastic about Clue, case-of-the-week mysteries, the NBA and cookies at Disney World. Less enthusiastic about the pricing structure of cable, loud noises and Tuesdays.
Your Daily Blend of Entertainment News
Thank you for signing up to CinemaBlend. You will receive a verification email shortly.
There was a problem. Please refresh the page and try again.