The Cabin In The Woods Will Come To Life At Universal Orlando This Fall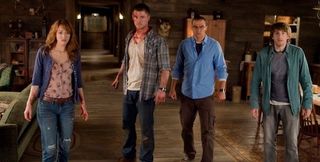 Are you ready to enter the Cabin in the Woods? If you've seen Joss Whedon and Drew Goddard's movie, you may not be so quick to cast yourself into that situation, as most of the characters didn't enjoy their stay in the titular Cabin. But if it's fictional horror-inspired fun you're looking for, you may consider a trip to Universal Studios Orlando this Fall, as the theme park will be featuring a The Cabin in the Woods-inspired attraction for a limited time during the Halloween season.
If you haven't seen The Cabin in the Woods, the vague description is that it centers on a group of college kids who set off for a fun weekend away at a cabin (in the woods). Bad things happen from there, but there's a bigger twist to the story. Where Cabin truly shines is in the way it weaves horror, suspense and humor, offering regular nods to the horror genre, without going quite so far as to parody it. Universal announced recently that they will be "unleashing hell" this fall by bringing to life the Lionsgate movie The Cabin in the Woods for their annual Halloween Horror Nights haunted house event, which takes place during the Halloween season. Last year, they brought zombies to life with a Walking Dead theme, and this year, they're headed into the woods, where there may be a zombie or two lurking.
The attraction will offer attendees the chance to be watched and manipulated. "You think you know this story. You think you're in control. THINK AGAIN." So prepare to have your strings pulled by whoever's running this show.
The announcement says we'll hear more details on what they have planned for the attraction soon, but that the "terrifyingly immersive Halloween Horror Nights event" will offer a movie-quality haunted house experience that's authentic to the film. It'll put guests in the middle of an ancient fight for survival. Tickets are on sale now.
This newly announced event is one more reason to consider visiting Universal Orlando later this year. Not only do they have the Wizarding World of Harry Potter there, but we also recently learned that they're adding a Simspons-themed Springfield mega-attraction. A trip to Universal Orlando this fall (September 20 to November 2) may be in order for those who want to sample all of the movie and tv-inspired attractions the theme park has available, including the Cabin in the Woods Halloween Horror Nights attraction. In the meantime, Netflix has The Cabin in the Woods available streaming.
Your Daily Blend of Entertainment News
Thank you for signing up to CinemaBlend. You will receive a verification email shortly.
There was a problem. Please refresh the page and try again.