Can Any Film Beat Boyhood For Best Picture?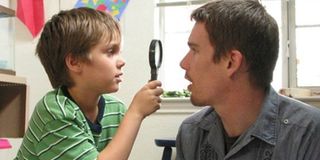 If you stick with the analogy that The Oscars are like the Super Bowl for movies, then this morning we finally learned which "teams" are playing. Eight movies were nominated for Best Picture, meaning we can actually discuss the potential of the films that will contend for the industry's top honor: a Best Picture Oscar.
As expected, Richard Linklater's Boyhood -- the current "frontrunner" in this year's ongoing race – received one of the eight Best Picture nominations, keeping it in contention. It joins a prestigious field of dramatic and comedic movies, which I'm including below:
Eight films in total. And now, the big question: "Are these the seven movies lining up to lose to Boyhood? Or can one of these movies shift the tide and contend for the Academy's top prize?"
Let's talk a bit about how the Academy traditionally operates (which, in turn, will point out a few oddities in this year's competition). Films that win Best Picture usually take the award for Best Director, as well. This isn't set in stone, however. Alfonso Cuaron won Best Director last year for Gravity, while Steve McQueen's 12 Years a Slave won Best Picture. The year before, Ang Lee earned the Best Director Oscar for Life of Pi, while Argo won Best Picture.
Is this a trend? If so, it suggests that the Civil Rights drama Selma has a real shot at upsetting Boyhood, even though director Ava DuVernay wasn't even nominated in her respective category. Just ask Ben Affleck how that worked out for Argo. In fact, a win for Richard Linklater recognizing his technical achievement, paired with a win for Selma in Best Picture, makes so much sense that you just wish we could hand out those trophies this afternoon and be done with this race.
At the same time, Oscar paired Picture and Director in 2011 (Tom Hooper and The King's Speech), 2010 (Kathryn Bigelow and The Hurt Locker), 2009 (Danny Boyle and Slumdog Millionaire), 2008 (Joel Coen and No Country for Old Men), 2007 (Martin Scorsese and The Departed)… do you see what I'm getting at? Cuaron and Lee seem to be the exceptions that prove the rule, and I'd be surprised if the Academy split the categories for a third consecutive year.
Birdman and The Grand Budapest Hotel, however, are films that received both Director and Picture, and have good chances of generating momentum in this second half of the Oscar race. Alejandro Inarritu's film, in particular, has a number of significant X-Factors that can help it on the campaign trail. First and foremost, it is a movie about the industry, focusing on a former superhero star (played by Best Actor nominee Michael Keaton) who is trying to resuscitate his career by writing, directing and starring in a Broadway play. The acting branch of the Academy – still the largest contingent of voters – likely will see a lot of themselves in the characters played by Keaton, Naomi Watts and fellow Oscar nominee Edward Norton. Keaton is even considered the frontrunner for Best Actor in some circles. Could Keaton and a possible Inarritu win power Birdman to the stage on Oscar night?
It's possible, but improbable. In fact, if I were going to wager on ANY of the other seven Best Picture nominees rising up and stealing the trophy from Boyhood -- because I do believe it is Richard Linklater's to lose – it's The Imitation Game. There's a laundry list of characteristics shared by Morten Tyldum's movie that ring the Academy's bell. It's a period biopic. It's expertly acted by a team of Brits. It has an element of tragedy, and an element of triumph. It's this year's The King's Speech, and we all know how that race turned out.
Ultimately, I'm not betting against Boyhood. Richard Linklater's movie has enjoyed Top Dog status for months now, and today's Oscar nominations did very little to change the film's status. But Phase Two of the marathon is all about maintaining momentum if you are the leader, and introducing doubt if you are a neighboring competitor. Do you think any film can slow Boyhood's roll between now and February 22?
Sean O'Connell is a journalist and CinemaBlend's Managing Editor. He's frequently found on Twitter at @Sean_OConnell. ReelBlend cohost. A movie junkie who's Infatuated with comic-book films. Helped get the Snyder Cut released, then wrote a book about it.
Your Daily Blend of Entertainment News
Thank you for signing up to CinemaBlend. You will receive a verification email shortly.
There was a problem. Please refresh the page and try again.