Catherine Keener Playing Tom Hanks's Wife In Captain Phillips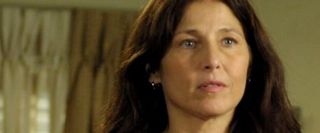 In her long career as an actress you're always thrilled to see in this or that supporting role, Catherine Keener has made a lot out of what might seem like stock wife or friend roles. In movies like Capote or Cyrus or The Soloist, you look forward to the work she'll do in the margins, confident she'll come up with some interesting way to play it. So while Variety's report that Keener will play Tom Hanks's wife in the hostage thriller Captain Phillips isn't all that thrilling on the surface, we can at least count on her to make it a little more interesting.
Captain Phillips, as you might remember, is based on the real-life drama of the Maersk Alabama, an American container ship taken over by Somali pirates in 2009. Hanks is playing the titular heroic captain, who sacrificed himself and was taken hostage in order to save this crew, and actually managed to escape. In the Variety report they note that Keener's character, Andrea Phillips, "remained strong throughout the hostage ordeal"-- pretty much the most generic thing you can say about somebody's wife. But while some actresses might make you wonder where they're getting all this superhuman strength, Keener usually puts it all up there on the surface. You're not inclined to doubt her for a second.
In any case, when she wraps Captain Phillips she'll be moving on to something even more fascinating, the Charlie Kaufman musical satire Frank or Francis, reuniting her with the Being John Malkovich director. WIth a schedule as busy as ever this year, Keener will still be impossible to miss on the big screen.
Your Daily Blend of Entertainment News
Staff Writer at CinemaBlend
Your Daily Blend of Entertainment News
Thank you for signing up to CinemaBlend. You will receive a verification email shortly.
There was a problem. Please refresh the page and try again.