You Can Watch The Guardians Of The Galaxy Porn Parody Online For Free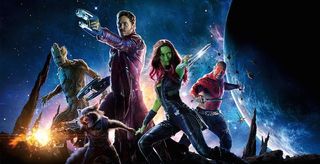 If you want to measure the true success of a movie, there's one surefire metric. If the film in question has a porn parody, you know it's a big deal and that it left a lasting imprint in popular culture. After Marvel's Guardians of the Galaxy tore through the box office last year, this seemed inevitable, and now you can watch a more adult version, Gnardians of the Galaxy, online and for free.
You better believe that we're not going to embed this video here. If you want to check it out, you'll have to go through the extra effort of clicking the link to WoodRocket.com. Be warned, however, that this is like a billion times NSFW, but, considering that we're talking about porn here, you hopefully already figured that part out. Maybe wait for your lunch break.
James Gunn's deep space adventure is actually a perfect candidate for this kind of makeover. Not only is it popular enough that damn near everyone saw it and will get the "in" jokes sprinkled throughout, but the unusual collection of space hooligans is full of everything you want from porn. You've got beautiful women, hunky guys, and, you know, a talking raccoon and an alien tree who only says three words. Okay, those last two may not be standard adult entertainment fare, but you get the point.
Gnardians of the Galaxy, because of course it's called Gnardians of the Galaxy, follows the exploits of Star Load (Aaron Wilcoxx), Gamwhora (Daisy Ducati), Crax (Shane Diesel), Groin (AJ), and Rocket Raccooch (April O'Neil—most definitely not the April O'Neil from Teenage Mutant Ninja Turtles). Together, they travel the galaxy trying to protect the powerful Infinity Bone from the likes of evil Bonin (Vuko) and Kokrath (Tabitha Stevens), and winding up in all kinds of adult situations trying to save the day.
The porn spoof game is kind of Wood Rocket's jam, and they have remarkably appropriate business name in this instance. They're veterans of this kind of parody, with titles like Game of Bones, The Knobbit, The Humper Games, and Doctor Whore under their belt. Though it does feel like they could have tried harder with Doctor Whore, that one is a little too on the nose.
Like we said, part 1 of Gnardians of the Galaxy is now available for your viewing pleasure on the Wood Rocket website for free. However, if that's not enough to satiate you, an extended DVD version is scheduled to drop later this month. And for those of you still waiting for the real deal, James Gunn revealed this week that he submitted his treatment for Guardians of the Galaxy 2 and is starting work on the script for the movie that opens May 5, 2017.
Your Daily Blend of Entertainment News
Your Daily Blend of Entertainment News
Thank you for signing up to CinemaBlend. You will receive a verification email shortly.
There was a problem. Please refresh the page and try again.