Channing Tatum Hated This Infamous Costume, Calls It The Devil's Condom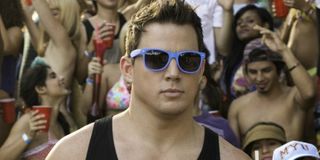 Channing Tatum is used to wearing all sorts of, shall we say, eccentric outfits. If you're one of the unlucky ones, you'll see him don some heavy sci-fi-inspired prosthetics, makeup and gear in Jupiter Ascending this weekend. But if you're one of the lucky ones, you'll eventually treat yourself to Magic Mike XXL, in which he wears practically nothing at all. When looking back at all the outfits he's worn throughout his career so far, there is one he calls "the devil's condom."
It's the black, rubber suit he wore in the first G.I. Joe movie, which is unfortunate because it looked really cool. For Vanity Fair's 2015 Hollywood Issue, which hits news stands today, the Magic Mike star revealed that this was the most uncomfortable costume he ever wore in a movie:
To refresh your memory a bit, this is what he's talking about:
How do we know it's this one and not, say, anything he wore in the sequel? Because he used the phrase "devil's condom" before in a 2009 interview with CinemaBlend. In describing the suit, he said:
He's since solidified his status as an A-lister, so no more uncomfortable attire for him. Although, sometimes you just have to suffer for your craft, like when he suited up in a tight-fitting wrestler's singlet in Foxcatcher.
Plus, he's about to become our new Remy LeBeau in X-Men: Apocalypse and the future Gambit standalone movie, which will no doubt place him in a different sort of uniform. We've seen the X-Men don slimming, black leather suits in most of the films, and they kinda look a little like Tatum's G.I. Joe getup, though not as bulky. Perhaps Bryan Singer's team has perfected the comfortability factor after all this time. They at least found a way to make Jennifer Lawrence's Mystiqe costume application far less time-consuming and painful, so we'd imagine they'll do the same for Tatum.
Your Daily Blend of Entertainment News