The Magic Mike 2 Trailer Is Here And It's Too Hot To Handle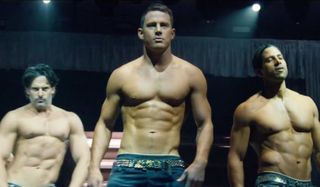 I don't think you're ready for this jelly! Scratch that, I don't think your ready for these tight abs. The Magic Mike 2 trailer has officially landed, pulling us right back into this world of sexy man candy. We couldn't stay away, and neither could Channing Tatum, who can't help but bust a move around his workshop.
Ellen DeGeneres is one lucky woman. Though she's married to Portia de Rossi, she still appreciates the Kings of Tampa, as the comedienne was the one to release the first Magic Mike 2 trailer online for our enjoyment. Though it's only a minute and half in length, it has everything we've been waiting to see: a shirtless Channing Tatum, a shirtless Joe Manganiello, a shirtless Matt Bomer, and lots and lots of gyrating. Warner Bros. also couldn't have picked a better song to play over Tatum's impromptu tease: Ginuwine's "Pony." It makes us all just wanna "jump on it"!
Mr. Magic Mike may have tried to leave his past behind him, but when you're one of the best and most beloved male strippers, you just can't hang up your jockstrap that easily. Accompanied by his boys, which also includes Kevin Nash, Adam Rodriguez and Gabriel Iglesias, he sets out for one final, epic blowout in Myrtle Beach. We get a glimpse in the trailer of what's in store, and if the big group dance number that the cast promised us is anything like that tease in the trailer…let's just say many of us are looking forward to.
The only peeps who won't be rejoining the boys are Matthew McConaughey and Alex Pettyfer. The former has become too in-demand to fit this in his schedule, plus he's an Oscar winner now, and shaking his abs on stage in a movie might knock him back down a couple rings. Pettyfer, however, isn't involved because, we assume, Mike had cut ties with him at the end of the first film. But that's OK, because Magic Mike 2 will see newcomers Donald Glover and Michael Strahan are joining the ranks. You can even see Kelly Ripa's talk-show co-host getting' down with his stripper self. Also cast are Amber Heard, Jada Pinkett Smith and Elizabeth Banks. But what does this mean for Cody Horn's Brooke? We guess that relationship didn't last, as the actress isn't coming back for the sequel and we saw Magic Mike flirting a bit with Heard's character. Interesting...
We'll see all the action go down when Magic Mike 2 hits July 1, just in time for Independence Day! Nothing says "America" like Channing Tatum...and strippers.
Your Daily Blend of Entertainment News