Charlie Hunnam Drops Out Of Fifty Shades Of Grey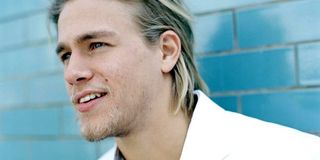 Barely two months after his casting inspired some fans to sign petitions against him, Charlie Hunnam has apparently given Fifty Shades of Grey fans their wish. Deadline reports that Hunnam has bailed on the adaptation of the best-selling trilogy, and the official studio statement is just vague enough to suggest there's a much more interesting story behind it:
Hunnam is currently starring on Sons of Anarchy on FX, though of course he was committed to that show two months ago when he first got cast as Christian Grey. The final episode of the current season airs on December 3, and with no news about plans for a seventh season, it's unclear exactly how Sons of Anarchy could suddenly be messing up his schedule. Then again, Fifty Shades of Grey is currently gunning for an August 1 release date next year, so there's not a lot of time to play with at all.
Director Sam Taylor-Johnson is still on board, as is Dakota Johnson as Anastasia, and presumably the casting process will be gearing up very, very soon to find a replacement Christian. You're welcome to give your suggestions in the comments, or may we suggest Christoph Waltz?
Your Daily Blend of Entertainment News
Staff Writer at CinemaBlend