Check Out The Big Difference In The Chinese Star Wars: The Force Awakens Poster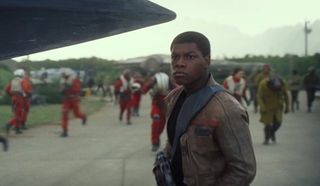 Usually, with big movies they open all over the world at the same time, and with a few exceptions, Star Wars: The Force Awakens is following this pattern. This means there are all kinds of different promotional materials and variations on what has been produced. As China has become an important piece of the financial puzzle for Hollywood, and though the movie doesn't open there until January 9, marketing in the region is a big deal. As expected, a new Chinese poster for The Force Awakens has been released, and there's one thing very noticeably different on it.
This tweet puts the U.K. version of the poster side by side with the newly released image, and it becomes very obvious that they took John Boyega's Finn, one of the new leads in The Force Awakens, and shrunk him down and moved him down towards the bottom of the one sheet, tucked behind the droid BB-8 and a stormtrooper. This isn't the only change by any means (seriously, where the hell is Chewbacca in the new version, and Oscar Isaac's Poe Dameron is also gone?), but it is certainly the most obvious.
In some corners of the galaxy, not even that far, far away, there has been some controversy over the fact that Boyega is black. You don't want to automatically assume the worst, perhaps these were just stylistic choices and characters were moved or removed simply to make more room for a bigger droid and more TIE Fighter and Star Destroyer action. But you still have to question why they would push one of the primary characters into the background and remove another, not to mention cut one beloved character entirely?
As someone points out in the comments below this tweet, the poster was made by American, probably by someone at Lucasfilm. It's a curious choice all around. It could be that the intent was to put focus on returning players, like Han (Harrison Ford) and Leia (Carrie Fisher), who are a bit bigger in the Chinese poster, though Rey (Daisy Ridley) and Kylo Ren (Adam Driver) are still the same size. If anything, you get a better look at Kylo Ren as he is looking directly at you.
Perhaps it's just an alternate version, I'm sure there are dozens and dozens of incarnations floating around or stacked in a pile in some Lucasfilm office. We'll probably never know exactly what the deal is, but we'll finally get to see the movie for ourselves in a few weeks when Star Wars: The Force Awakens opens on December 18. Unless you live in China, where you'll have to wait until January 9.
Your Daily Blend of Entertainment News