Chloe Moretz Goes Dark Yet Again For Emily The Strange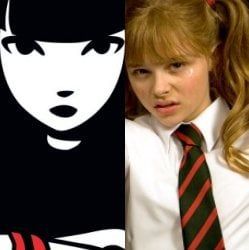 With Hit Girl still fresh in our minds and her startling turn in Let Me In coming in just a few weeks, Chloe Moretz is still fairly beloved as the young actress capable of the most difficult, disturbing, and frankly grown-up roles Hollywood can throw at her. I've got a nasty feeling, though, that some backlash is going to start up soon, as Moretz seemingly can't stop being cast in every "spooky little girl" role up for grabs. Next up, according to Deadline, is Emily the Strange, Dark Horse Entertainment and Universal Pictures' adaptation of the graphic novel, clothing and apparel empire.
The image of Emily is instantly familiar whether or not you know anything about the character itself-- designed by Rob Reger and his Cosmic Debris company in 1993, Emily has appeared on stickers, T-shirts and eventually a comics series ever since. She's doesn't exactly seem like the kind of comics character who comes with a rich mythology, rather a kind of goth Sweet Valley Twins character who can be fit into all kinds of new stories. There's no word on where Universal and Dark Horse are planning to take the story this time, though given that Moretz herself is no stranger to R-ratings, the sky is pretty much the limit.
The Deadline article breaking this news also references "the expectation" that Moretz will once again play Hit Girl in a Kick-Ass sequel-- a sequel that is still more of a pipe dream than a reality. Deadline's mention may indicate some more movement toward actually making it happen…. or it could be the same kind of wishful thinking we've all been engaging in for months now. In other words, don't get too many of those hopes up.
Staff Writer at CinemaBlend
Your Daily Blend of Entertainment News
Thank you for signing up to CinemaBlend. You will receive a verification email shortly.
There was a problem. Please refresh the page and try again.