Chris Pratt And Jennifer Lawrence's Passengers Found Its Robot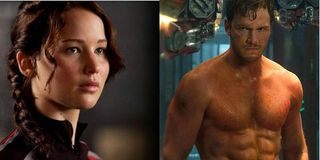 Throw actors like Chris Pratt and Jennifer Lawrence together in any movie and I'm likely to see it no matter what. Make it a science fiction movie, even better. The duo's upcoming two-hander Passengers already had my attention, but now they've added an intriguing new piece, Michael Sheen, who is reportedly going to play a robot.
Variety reports that Sheen, currently starring in the series Masters of Sex, which just started its third season on Showtime, but who is an actor I will always remember for playing Wesley Snipes on 30 Rock, is all set to join the party on Sony's long in the works sci-fi romance.
Passengers takes place on a spaceship bound for a distant planet with a group of travelers who are all in a cryogenic sleep due to the long-distance nature of their trip. There are thousands of settlers on board, they plan to colonize a new world, but a problem arises when one passenger (Pratt) wakes up. He still has 90 years to go before they reach their destination, and for some reason that is unclear right now, he is unable to get back to sleep. So what does he do? Well, instead of living out his days in solitude and dying well before anyone else regains consciousness, he wakes up a female passenger (Lawrence). While this seems like kind of a dick move on the surface, she probably has some mixed feelings on the matter, an unlikely romance blooms between the two. And apparently the Sheen robot figures into this limited scope narrative in some way we're not sure of yet. So they're not entirely as it turns out.
Though it is rolling along now, this is a project that has been floating around for a while, and though it hasn't materialized just yet, it's always had big name talent attached. Originally Keanu Reeves was going to play the male lead, and both Reese Witherspoon and Rachel McAdams were set to play the female role at various times. After some financial uncertainty following the change of command at Sony, Pratt and Lawrence signed on for hefty sums (the Guardians of the Galaxy star will pocket $12 million, while the Oscar-winning Lawrence will earn $20 million plus a percentage of the profits).
Aside from the star presence, there's some power behind the scenes as well. Norwegian director Morten Tyldum (Headhunters) is coming off of the Benedict Cumberbatch-starring The Imitation Game, which walked away with an Academy Award last year, as well as a bunch of nominations. John Spaihts, the writer behind Marvel's upcoming Doctor Strange adaptation, as well as Prometheus and a Mummy reboot, wrote the script.
Right now there's no timeline for Passengers beyond a release sometime in 2016. With both Jennifer Lawrence and Chris Pratt as in demand as they currently are, scheduling could be tricky, but at least there are basically only three people in this movie.
Your Daily Blend of Entertainment News