Chris Pratt And Jennifer Lawrence Are Definitely Making A Movie Together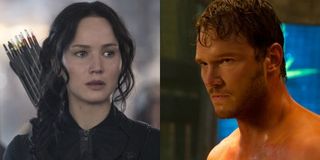 What do you get when you put Chris Pratt and Jennifer Lawrence in a movie together — besides an epic salary dispute? Something called Passengers, a big-budget sci-fi romance. After what seems like a lengthy pay dispute between Lawrence and Sony Pictures, a deal has finally come together for two of the hottest stars in Hollywood to come together on the big screen.
Pratt made a name for himself post-Parks and Recreation playing Star-Lord in Marvel's Guardians of the Galaxy and as the raptor-racing Owen in Jurassic World. Lawrence is, of course, the Oscar-winning Girl on Fire from the Hunger Games and X-Men franchises, as well as high-caliber fare like David O. Russell's Silver Linings Playbook and American Hustle. According to The Hollywood Reporter, it's confirmed that the two will join forces in Passengers - which is a project that has been in development for a while now that was initially going to star Keanu Reeves and Reese Witherspoon (and more recently Reeves and Rachel McAdams).
Watch Chris Pratt Get Attacked By Dinos In Hysterical Jurassic World Prank (opens in new tab)
The film takes place aboard a spacecraft headed for a distant planet. Though there are thousands of passengers aboard in cryogenic sleep, one of them (Pratt) wakes up 90 years early. It's unclear at this time, but he can't go back to sleep for one reason or another. Instead of choosing to live out his days and grow old alone, he wakes up a woman (Lawrence) and a romance eventually ignites between the two. Oscar-nominee Morten Tyldum, the guy who directed the Benedict Cumberbath-led Alan Turing biopic The Imitation Game, is helming this project.
Passengers has been garnering a lot of chatter, but not for the best of reasons. When Amy Pascal was replaced by Tom Rothman as the head of Sony Pictures, there was pressure to trim the budget of the project, which meant lower pay for Lawrence. The star, who won Best Actress for Silver Linings Playbook and was nominated for American Hustle, was originally offered $20 million for the film, but Rothman attempted to trim that paycheck down a bit. Lawrence's camp was reportedly unwilling to yield, which left the future of this film in jeopardy. However, with the film now officially green lit for production, the dispute has been settled. Lawrence is getting her $20 million against 30 percent of the profits after the movie breaks, and Pratt is getting $12 million. And that doesn't even include production costs.
The New Hunger Games: Mockingjay Part 2 Trailer Is Tense And Exciting
Studios are wary of original concepts. The sequel, remake and adaptation treatments have proven to make bank at the box office, while originality doesn't always pay off in the long run. Passengers is an original concept by Jon Spaihts of Prometheus and Marvel's upcoming Doctor Strange. With the studio shelling out some major dough on this film already, there's a lot of pressure for it to perform well. With Pratt and Lawrence headlining such a film together, though, it seems like their combined star power will bring out their respective fan circles.
Your Daily Blend of Entertainment News
Thank you for signing up to CinemaBlend. You will receive a verification email shortly.
There was a problem. Please refresh the page and try again.