Jennifer Lawrence And Sony Are Having Serious Problems Over Her Salary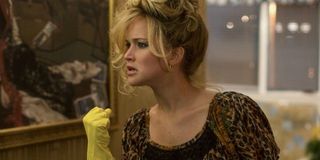 Jennifer Lawrence is a hot commodity. She's the face of the Hunger Games franchise, she plays the shape-shifting mutant Mystique in the current run of X-Men films, and she has an Oscar under her belt. If studios want her in their movies, they're going to have to drop some serious moolah. But that's not sitting right with everyone.
According to The Hollywood Reporter, Sony is having some issues with how much money Lawrence was promised for the upcoming sci-fi romance movie Passengers. Morten Tyldum is directing the film after The Imitation Game raked in a number of Oscar nominations, and Lawrence and Guardians of the Galaxy's Chris Pratt are headlining. Back when Amy Pascal was heading up Sony's film division, the filmmaker came aboard for approximately $3 million, Pratt for $10 million, and Lawrence for $20 million, even though she's said to play a secondary role to Pratt's. When you also factor in how much money the studio spent on a previous failed attempt at making Passengers, there's already a massive bill before production even begins. So you can see why Sony's newly appointed film chief Tom Rothman is having some issues with Lawrence's pay.
The actress' camp is unwilling to yield from the previously agreed upon $20 million price tag, though. THR states that this is in large part due the Sony hacking scandal, which revealed that Lawrence received far less money than her co-stars on American Hustle. She repotedly threatened to walk away from Passengers if Sony didn't meet the fee, and worse yet for the studio, Tyldum was ready to walk away with her. Rothman is said to be trying to keep the budget on the film to around $80-$95 million. Given the original concept of Passengers, studios aren't willing to throw a ton of money on something that's not guaranteed to sell movie tickets. The film tells of a woman on an interstellar voyage who wakes up from cryogenic sleep 90 years too soon. Once up, she discovers that it was another passenger, awoken even earlier, who did it on purpose.
However, as a source pointed out, the script may be solid and the cost may be reasonable for a film like this, but it also has two of the biggest stars in the industry. Coming off of Guardians, Chris Pratt is starring in this summer's Jurassic World, which depending on its success will likely garner sequels. Other sources are saying that Rothman feels confident he can keep the budget around these figures if he cuts back on the special effects, or perhaps seeks co-financing partners. So far, it seems like Lawrence will end up with the pay she demanded, but other things on the film could change.
Your Daily Blend of Entertainment News