What Anne Hathaway Thought Of The Anne Hathaway Joke In Trainwreck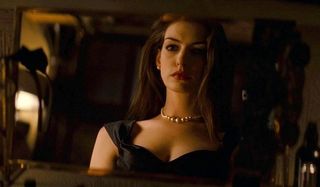 When you're famous and make big movies and win an Academy Award, you're going to get a lot of attention. Some will be good, some will be bad, and occasionally you'll be the butt of a joke. Such is the case of Anne Hathaway, who found herself on the receiving end of a jab in the Amy Schumer-written, Judd Apatow-directed Trainwreck. It wasn't super mean or anything, but Hathaway's response definitely shows that she has a sense of humor about herself.
In Trainwreck, Bill Hader's character wins an award and carries it with him. Schumer's character, cleverly named Amy, remarks that he's dragging it around like Anne Hathaway after the Oscars. It's admittedly not the most vicious joke in the world, but the actress, who won the statue for her role in Les Misérables, took to her Facebook page with a classy, perfect response.
The result is really just a big old social media love fest. Hathaway talks about how much she loved Trainwreck and praises Schumer for her "brilliant and refreshing" writing and acting. The recent Emmy nominee, for her work on her Comedy Central series Inside Amy Schumer, gushed back about her love for Hathaway on Twitter, also throwing Judd Apatow under the bus for his role in the joke.
And because this is a celebrity Twitter train, Apatow chimed in and threw in his two cents, admitting his own culpability while standing behind his humor. And he's right, Bill Hader does look lovely in the scene in question.
In theaters now, Trainwreck marks the first big screen leading role for Amy Schumer, who couldn't be hotter right now. With her show, now her movie, and her constant presence in the media, she is crossing over into the mainstream in a big way, causing a ruckus as she goes. The story follows a commitment-phobic magazine writer as she bounces from one casual relationship to the next, never even considering that a monogamous relationship is possible until she meets Hader's charming sport doctor. Now she's got some thinking to do and lifestyle choices to examine.
Trainwreck debuted with a $30 million plus opening weekend, playing opposite Marvel's latest superhero adventure, Ant-Man, which is a solid showing for a hard R-rated comedy. It might be a good antidote for those of you looking for something besides the next big studio blockbuster and could provide some nice counterprogramming.
Your Daily Blend of Entertainment News