Chris Zylka Confirmed As Spider-Man's Flash Thompson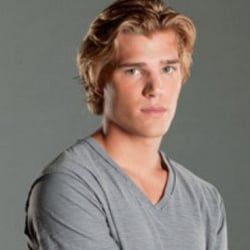 After suffering through months and months of rumors about the Spider-Man reboot that turns out to be nonsense, we're finally getting to the point where the rumors are actually based in reality. We heard back on November 23 that relatively unknown actor Chris Zylka had been cast in Spider-Man, and we speculated he'd probably be playing Peter Parker's high school nemesis and secret fan Flash Thompson. Now The Wrap has confirmed the news, which makes sense given that Spider-Man starts filming in only a matter of weeks and it's time for them to have the pieces in place.
Zylka has been making his way through teen-centric projects for a few years now, with appearances on the new 90210, Hannah Montana and a major role on the TV series version of 10 Things I Hate About You. He also played the embodiment of an empty-headed pretty guy in Gregg Araki's Kaboom, a completely bizarre and hilarious satire about college life in which Zylka plays the surfer roommate of a gay teenager going through some seriously unusual coming-of-age crises. Kaboom is a totally niche movie that will be seen by about .0002% of the people who see Spider-Man, but it's the most interesting credit on Zylka's resume, and I"m taking it as a suggestion that he's got some interesting acting chops in there waiting to be seen by a bigger audience.
Spider-Man starts shooting in the new year with Andrew Garfield and Emma Stone in the lead roles, and hits theaters July 3, 2012.
Staff Writer at CinemaBlend
Your Daily Blend of Entertainment News
Thank you for signing up to CinemaBlend. You will receive a verification email shortly.
There was a problem. Please refresh the page and try again.