Christopher Mintz-Plasse Says No To McLovin Spinoff, But Would Do Superbad 2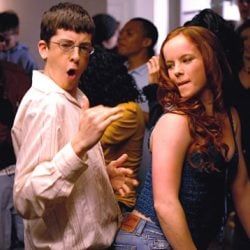 It's been three years since Christopher Mintz-Plasse achieved immortality as the foul-mouthed, sex-crazed McLovin in Superbad, but inevitably the role follows him everywhere he goes. At today's press day for Kick Ass, in which Mintz-Plasse plays burgeoning supervillain Red Mist, there was the inevitable question about Superbad 2, which apparently Michael Cera and Jonah Hill have discussed as a possibility in the past. And while Mintz-Plasse had the usual things to say about only doing it if everyone came back, he had some other interesting ideas about how it might work:
Quite honestly, Superbad 2 feels to me a lot like Anchorman 2, a movie that all the people involved love to gossip and scheme about, but one that no one will ever actually commit to making. Still, don't you kind of want to se McLovin grown up but still a mental adolescent? Or is all this talk just soooo 2007?
Your Daily Blend of Entertainment News
Staff Writer at CinemaBlend